Can a garage legally keep your car?
Legal advice – car repairs
A basic understanding of the law can help you avoid a dispute in the first place, or help you decide if you need more formal and personal legal advice.
Our general advice about getting the best from your garage gives you tips on how you can reduce the risk of something going wrong if you're dealing with a garage for car repairs or servicing.
Your contract
Basic dos and don'ts
Estimates, quotes and contracts
Authorising repairs
Delays
Can a garage keep your car?
Not happy with repairs?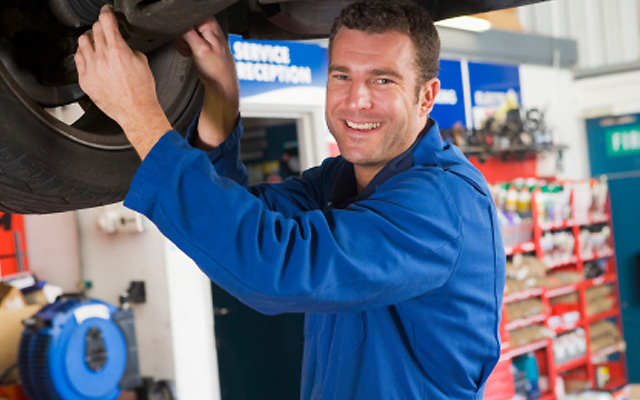 Your contract
When you instruct a garage to carry out repairs or other work, you enter into a contract.
It's best to put your instruction in writing if you can, as it will be easier to see what was agreed if there's a dispute.
Whether written or oral, any contract contains both 'express' and 'implied' terms.
Express terms
Express terms are created when you instruct a garage and can be:
Specific and confined to a particular fault for example 'fit new X brand fuel pump'.
General for example 'the engine's not running well, the brakes are hopeless and there are dreadful noises coming from the suspension; fix them for me'.
Implied terms
In addition to any express terms agreed, implied terms are that:
Parts must correspond with any description given.
Parts must be of satisfactory quality and reasonably fit for any particular purpose that has been specified.
Repairs will be carried out with reasonable care and skill and within a reasonable time.
The basic dos and don'ts
Look for a garage that has signed up to a Trading Standards approved code of practice
Get a firm quote or written estimate before you authorise repairs
Get several quotes if you can to check that the price is fair
Make it clear if you need your car back by a specific time or date but give the garage a reasonable amount of time
Bear in mind a garage can charge for work involved in preparing an estimate if you don't go ahead and ask them to do the repair
Leave a phone number with instructions to call you for further authorisation if unexpected work is needed
Leave a note explaining the fault or symptoms and try to speak direct to the mechanic
Understand that problems can arise and costs increase, even when the mechanic's working carefully
Give the garage a chance to correct a repair that turns out to be faulty – subject to your right to arrange for the work to be carried out elsewhere and claim the cost from the first repairer
Contact your local authority trading standards department if you think you may have been a victim of unfair trading practice
Don't stop payment for work you're not happy with, without taking legal advice
Don't expect faults to be diagnosed for nothing – the garage should be able to give you an estimate of the time and cost required and possible repair options
Don't remove your car from the garage (unless authorised) while payment is still outstanding
Don't lose your temper
Don't expect miracles – intermittent faults can be very difficult to pin down, and components can break when being dismantled no matter how much care is being taken
Don't buy parts from one company and ask another to fit them. Two separate contracts mean that, if the part is faulty, you may have to pay the company that fitted it to remove it
Estimates, quotes and contracts
If a firm price is stated at the time of making the contract, then both you and the garage are bound by it, but it's more usual for a garage to give you an estimate rather than a firm quote.
Generally, an estimate won't bind the garage, although it will be an indication of the eventual cost.
A reasonable price
If no price is quoted, the garage can charge you a 'reasonable' price for all work properly performed.
What's reasonable is a question of fact, and a court would decide by reference to the work done, market rates, and any previous dealings.
A price won't automatically be considered unreasonable simply because other garages in the area charge less.
Get several quotes
Business's operating costs, hourly labour rates and parts prices can vary a lot so it's a good idea to get quotes from more than one garage, particularly if the job's likely to be very expensive.
Authorising repairs
Garages should work strictly within their authorisation.
Leave the garage a phone number and make sure the garage is clear what sort of authorisation you are giving them.
Specific authorisation
If you authorise a garage to carry out only specific work, and to do no other work without further permission, then the garage is not entitled to claim payment for any extra work done.
If the garage has done extra, unauthorised work, they may remove any unauthorised replacement parts fitted provided the old parts are properly re-installed on your vehicle. If this is no longer practicable, the garage should bear the loss.
Unless such limited authority is in writing, it is open to dispute what instructions were actually given.
General authorisation
If your instructions to the garage are simply to carry out necessary repairs without any limit on either the extent or the cost of them, you give the garage unrestricted authority to carry out whatever repair work is necessary.
This doesn't mean the garage can do unnecessary work, but establishing this can be very difficult, and would be down to you in the event of legal proceedings.
If you're in doubt set a financial limit, preferably in writing, and ask the garage to contact you beforehand for your authority if this is going to be exceeded.
Delays
Delays can happen if parts are hard to obtain, if the problem's hard to diagnose or if the repair turns out to be bigger than first thought, but if the garage has missed a clearly agreed completion date you may be able to:
Agree a new deadline for completion
Ask the garage for a courtesy car until the work is completed
Take your own car back and use it, if it's still roadworthy, until the garage is in a position to complete the repair
Get the car repaired by someone else, if it can be taken away safely, and claim compensation from the original garage.
If you didn't agree a specific completion date but you think any delay is unreasonable then you'll need to discuss this with the garage and agree a new, and reasonable, completion date. A second opinion from another garage might help.
Can a garage keep your car?
A garage that has repaired your car has what is known as a 'lien'. This is the right to keep the car until they've been paid for all work done.
If you take your car away without authorisation you risk both civil proceedings and criminal prosecution.
Apart from legal proceedings or leaving your car while any dispute is sorted out, the only option is to pay the amount demanded, marking the invoice as 'paid under protest'.
If you're not happy with the repair
Any work that's been done for you should be done using the correct materials, free from defect and should reach the standard of a competent motor engineer. If a repair's fallen below that standard, the garage may be in breach of contract or negligent.
It's best to resolve any issues with the original repairing garage as legal procedures can be very difficult and time consuming.
Strictly, you'd be entitled to take your car to another garage to have the faults put right and then claim the cost from the original repairer, in which case it would be essential to notify the garage of your intentions in writing and get several quotes along with expert evidence to support your claim.
In practice you should aim to keep the cost of any claim as low as possible so it's usually wise, at least initially, to discuss the position with the original repairer. If reasonable to do so, allow them an opportunity to rectify their mistake at no further cost to you.
New problem?
You may get your car back only to find that the garage has caused a new problem.
Generally, the garage would be responsible for any additional fault or damage, but it's up to you to prove that this happened while the car was in the garage's care.
It's possible that the new fault could be completely coincidental and unrelated to the original fault or repair.
Can a Mechanic Refuse to Release Your Car? – (The Answer)
When you take your car to the local mechanic to get it fixed, you may have an idea of what's wrong with the car. You might even think you know how much it'll cost to fix it. But, what if you get there and find out the problem's a lot bigger than you thought it was? Can a mechanic refuse to give your car back? Well, the general answer is no. There is really only one situation in which a mechanic can refuse to give your car back. We'll talk about that a little later.
Generally speaking, a mechanic doesn't have the right to keep your car, no matter how unsafe the car is to drive.
For example, if you take your car in for an oil change, the mechanic may discover that you need brakes. He may even take the car for a test drive. If he believes the brakes are really dangerous, he may tell you that he's required to fix it. He may even tell you that, legally, he can't let you have the car back without fixing it. If he says this, don't fall for it.
There is no law that says a mechanic can keep your car and require you to make repairs. This doesn't mean it's a good idea to take your car without getting the repairs. It just means that you do actually have a choice.
There's No Law Allowing a Mechanic to Keep Your Car Until Repairs are Done
Just because there's something wrong with your car, the mechanic doesn't have a right to keep your car. If they tell you they do, they're not telling you the truth. It doesn't matter what state you live in, you can't be legally forced to pay to get your car fixed. Now, there is a big caveat to that.
While the mechanic can't force you to get the repairs done, they may require you to sign a release before you leave with the car. If the problem with your car makes it unsafe to drive, the mechanic's shop isn't going to want to be on the hook.
Let's say that you refuse to get your brakes replaced and drive off the mechanic's property. Two blocks later, you get into an accident because your brakes failed. You kill the other driver and you end up paralyzed. The mechanic is going to want to make sure you can't sue him for damages. This is why they ask that you sign a document saying that your mechanic made you aware of the car's dangerous condition and you chose to not get the repairs done.
What if the Mechanic Does Repairs that You Didn't Authorize?
When you drop your car off to the mechanic, you usually authorize certain work. You may ask them to do specific repairs. Or, you may tell them that they can only do repairs after you authorize them.
Finally, you may give permission for them to do repairs up to a certain dollar amount. Once you leave the shop, the mechanic discovers that there are repairs needed that you didn't talk about. They decide to do the repairs and don't call you for authorization. When you return to pick up your car, they tell you the bill is twice as much as you thought it would be. They tell you that, if you don't pay the bill, you can't have your car. What are you supposed to do in this case?
Well, in almost every state, there is something called a mechanic's lien. This basically means that a mechanic can keep your car until you pay your bill in full. Even if your car is worth $100,000, if you have a bill for $20, they can keep your car until the bill is paid. And, in some states, they can even charge a daily impound cost. Since your car is taking up room in their garage, they can charge you additional fees.
To avoid this, just pay your bill. However, the mechanic's lien only applies to authorized repairs. So, if your mechanic does work that you didn't authorize, agree to pay the portion that was agreed upon. This should clear the matter up. But, if it doesn't, you may run into serious problems.
What Should You Do if Your Mechanic Refuses to Release Your Car?
If your mechanic refuses to release your car, you have a few options. It really depends on why they refuse to give you back your car. If it's because you refuse to let them do certain repairs, you really only have two options.
First, you can call the police. Let them know the situation and ask them to talk to the mechanic. Usually, if it gets to this point, the mechanic is just going to give your car back and document the fact that you refused to make the repairs necessary to keep your car safe. This is to protect their shop in the event that you get into an accident later.
Your second option is to take civil action. You can file an action with the municipal court asking that the garage be ordered to give back your car. The problem is, this can take weeks to resolve. You can't afford to be without your car for that long.
If the reason they won't release your car is because of non-payment, a civil action is your only option. In fact, odds are, the mechanic will have already filed a civil action against you for non-payment. You may be better off paying the bill and then taking legal action later if you don't believe the payment was warranted. Legal action is always the last resort – both for you and the mechanic. They're not going to want this kind of trouble and neither will you. Try to work something out with the mechanic. This way, you get your car back and you don't have to ruin a relationship.
Car Repairs and the Law
The last updated date refers to the last time this article was reviewed by FindLaw or one of our contributing authors. We make every effort to keep our articles updated. For information regarding a specific legal issue affecting you, please contact an attorney in your area.
Car repairs happen from time to time. Finding an honest mechanic at a fair price is not always easy for everyone. Worse yet, it is difficult for most people to identify mistakes or short cuts that are taken by mechanics. That is, at least until something goes wrong! Becoming an informed consumer is one of the best defenses. This article focuses on legal and practical issues about car repairs. See Dealer Used Car Sales and Warranties and Consumer Warranty Basics for related information.
Where to Go for Car Repairs
What kind of car is it?
Is it warranty-related work?
Is it something simple (like an oil change)?
Can it be fixed at a larger tune-up chain?
Does it need a brand-specific shop (like Volkswagen or BMW)?
Often the best way to find a reliable and affordable mechanic is through word of mouth or reading online reviews.
Types of Car Repair Shops
Car repair shops can be categorized as one of three main types. Each has its strengths and weaknesses:
Car Dealerships: Mechanics at the dealership will be very familiar with the make and model of your car. These mechanics often receive specialized training. Repairs at dealerships tend to be quite expensive. Many car owners limit the use of dealership mechanics to just warranty-related repairs.
General Repair Shops: While parts often cost more at service stations, as compared to dealerships, labor often is less expensive. However, finding a skilled, honest, and affordable mechanic can sometimes be tricky.
Auto Repair Chains: These types of repair shops tend to focus on one thing, whether it is routine oil changes, mufflers, or brakes. Some chains offer a complete list of services. Chains can usually offer a relatively low price because they work on such a high volume of cars. These types of chains are best for specific types of routine maintenance.
Cost Estimates for Repairs
Several states require mechanics to provide consumers with a cost estimate before they begin any car repair work. Most repair shops are more than willing to provide one anyway.
Some repair shops charge a fee for estimates since car owners often shop around for deals and will not necessarily use a given repair shop for the actual work. These shops must notify you about any such fees.
Limiting Final Costs Compared to Estimates
Many laws say the final cost may not exceed the estimate over a certain percentage. For example, Illinois' Automotive Repair Act provides two options for vehicle repair facilities:
They can provide a written estimate for the price of labor and parts (final bill must not exceed the estimate by more than 10%)
They can provide a written price limit for each specific procedure (final bill for each procedure must not exceed the estimate without the owner's consent)
The Illinois law goes into additional details about how labor costs should be calculated, estimates for suggested repairs, reassembly charges, and so on.
Refusal to Pay for Auto Repairs
If you decide you do not want to pay for the services provided by a car repair shop, the shop may be legally entitled to keep your car.
The owner of the shop would obtain a mechanic's lien, provided they comply with any applicable laws requiring estimates. A lien is a legal claim for property that has been improved or otherwise serviced.
The mechanic may keep and ultimately sell your car if you do not pay the bill on time. This applies even if your car is an $80,000 luxury vehicle that received a $35 oil change.
Unfair and Deceptive Acts and Practices Statutes (Laws)
All states have some kind of law addressing consumer protection against unfair and deceptive acts and practices (sometimes referred to as UDAP). They can vary from one state to the next.
These laws address a wide variety of practices, including things like:
No predatory lending and automobile sales
Requiring auto repair shops to disclose certain information to consumers (such as specific details of the pre-work estimate and whether any rebuilt parts are used)
Requiring same-day repairs (unless more time is reasonably needed or you have agreed to a delay)
Requiring mechanics to correct poor repair work for no additional fee
Posting price lists in a way that is clear to customers
Some shops fail to meet states' requirements under UDAP laws. Contact your state attorney general's office if you believe your car repairs or how they were handled was illegal.
Unauthorized Repairs
If you have an older car and not much money, you might get work done on your vehicle that is considered crucial and let some other problems go by the wayside.
If the mechanic makes unauthorized repairs and demands payment, you may be able to sue the mechanic. This applies only if the other fixes were completely unrelated to the original problem.
But, you may not have a case and may need to pay for repairs if:
The shop made a «good faith» effort to solve a problem
They fixed something else related to the original issue along the way and
The additional fix was a possible solution to the original problem
Failing to Install a Part
Let's say your mechanic fails to put in an oil filter after an oil change or fails to properly install a part. Failing to put in the proper part(s) falls under the category of unauthorized repairs.
To get money for an auto shop or dealer's error, you must show your car was damaged because of their negligence. Learn more by contacting an attorney in your area.
Thank you for subscribing!