How long does a Tesla tire change take?
The Tesla Flat Tire Process
One of the more peculiar things I discovered during the sales process for my tesla was that it doesn't have a spare tire. This seems like a general trend across car manufactures, either shrinking their spares to sometimes comical sizes or eliminating them altogether. The weight and space savings are obvious but it did make me wonder what happens when you get a flat.
When I was investigating this before I got my car I couldn't find a straightforward description of the process from an owners perspective, and instead pieced it together from forum posts and the like. I recently experienced my first flat and so can now speak from my own experience. This post is my attempt to help anyone else who is curious about how the process goes and what to expect.
1. The Flat
While driving along we started to receive low tire pressure warnings on the main dashboard. Initially these were just the regular "Low Pressure" warning that I've gotten a few times when I just need to top up a tire. So we added a bit of air to the tire in question and kept driving.
A few miles later the warning returned and now quickly escalated from 'hey, one of your tires might need some air' to 'woah there, you need to pull over right now'.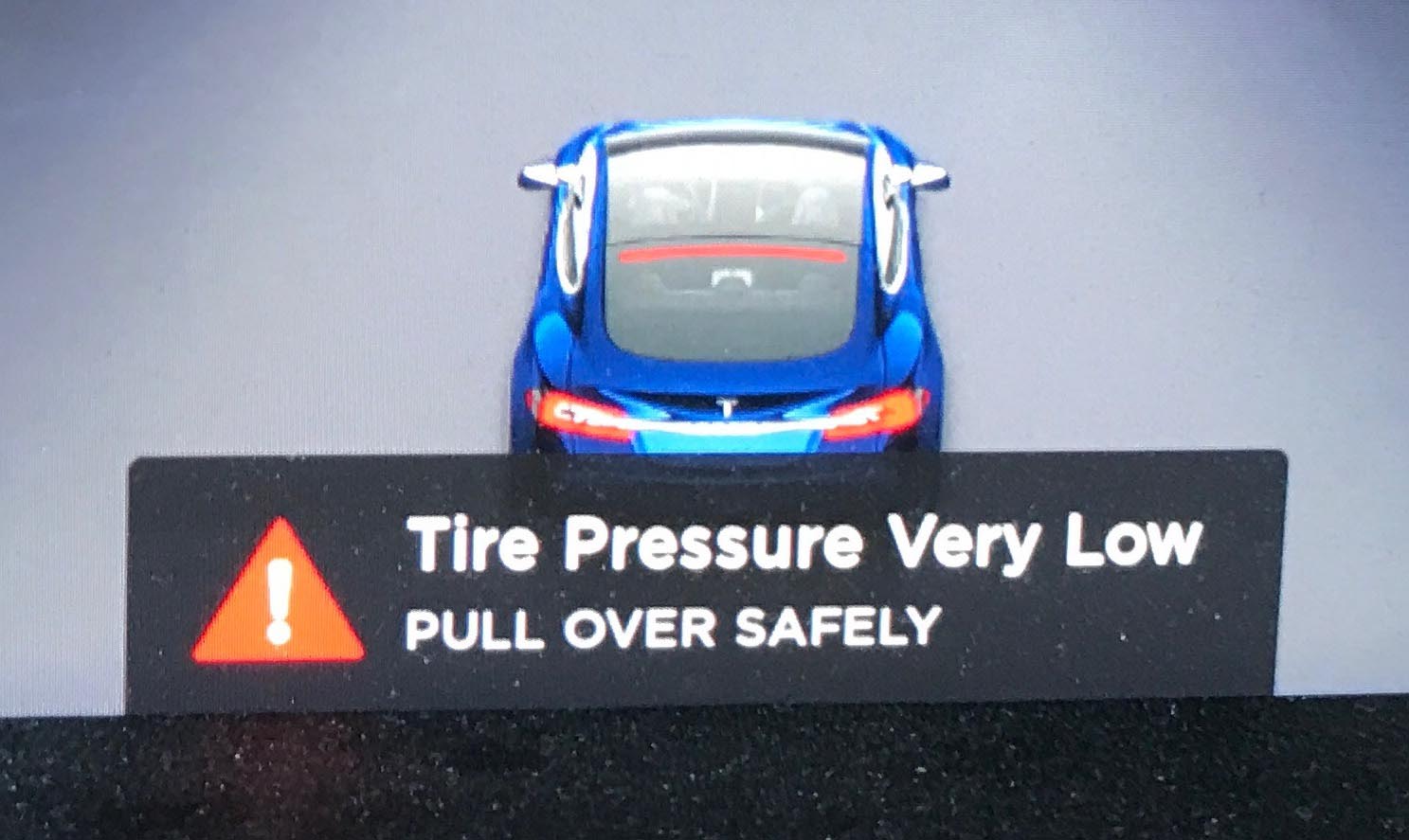 As soon as we safely could, we pulled the car over (in our case in a residential neighborhood). After a quick visual inspection the tire was definitely a full on flat now.
2. Roadside Service
As the car has no spare the next thing to do was to call Roadside Service. They answered right away and were able to lookup my account profile information from Caller ID, so we very quickly moved right to sending over help. The representative had a good balance of friendliness and directness.
He said the nearest tow service with a tire for me was about 30-60 minutes away and would be able to provide me with a loaner spare to get me moving again and the tow truck driver would then take my flat tire to my nearest Tesla service center for evaluation. He also then quite helpfully said that I should expect a call from him in around an hour to check that things were moving along.
The tow truck driver called and asked to confirm the tire size and specs for my vehicle. He also let me know that he couldn't guarantee that the rim for the loaner spare would exactly match my other wheels (in my case it did but I appreciated the warning).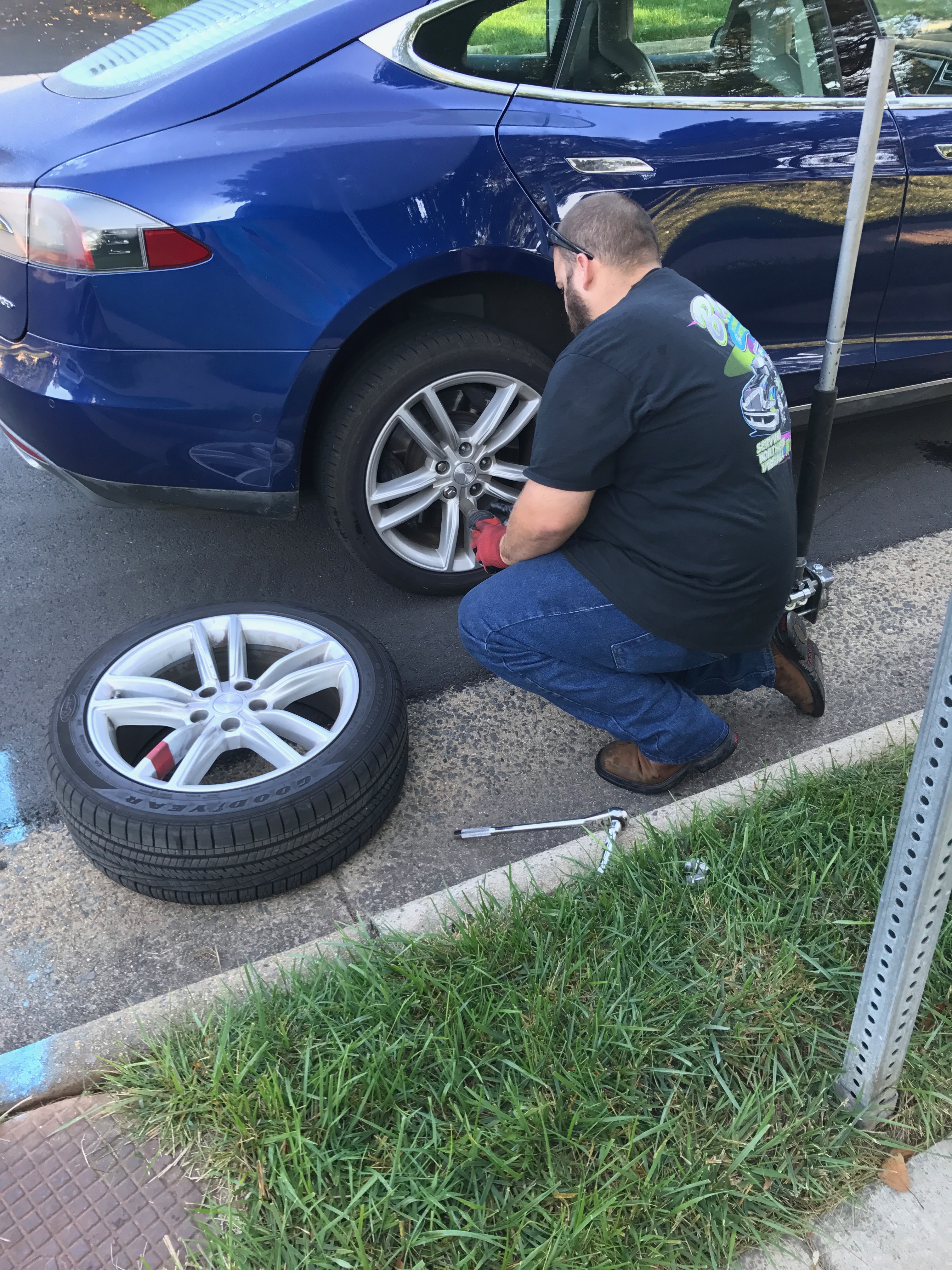 He arrived around 40 minutes later and proceeded to remove my flat tire and put on the loaner spare. He then took the broken tire with him and said he would drop it off with Tesla later that day, and then I should expect a call from Tesla with next steps for getting it fixed or replaced. From talking to him it sounded like Tesla had provided his tow truck company with a few spare tires that they cycle through as needed. He was efficient and helpful. The whole process took around 10 minutes.
Before he took away the old tire I was able to locate the source of my trouble…I'm no mechanic but I'm pretty sure this isn't good:
3. The Loaner Spare
The same customer service representative from Roadside Service called me back to make sure everything had worked out correctly. He also sent over a simple document for me to e-sign regarding the loaner spare. Basically a general waiver of liability and an agreement that I'd bring back the tire to Tesla within 3 business days (or later if mutually agreed to).
So basically rather than carrying a spare in my truck, when I needed one it was delivered to me on the side of the road and I could then use it until a proper replacement could be arranged. The tire I got was a full size regular tire, and didn't have any use restrictions. There was no cost for either the roadside service or loaner spare (though I think that after my car is beyond a certain age their might be).
The only downside of the loaner spare was that the tire pressure system wasn't connected to it so I had this warning every time I drove until it was replaced.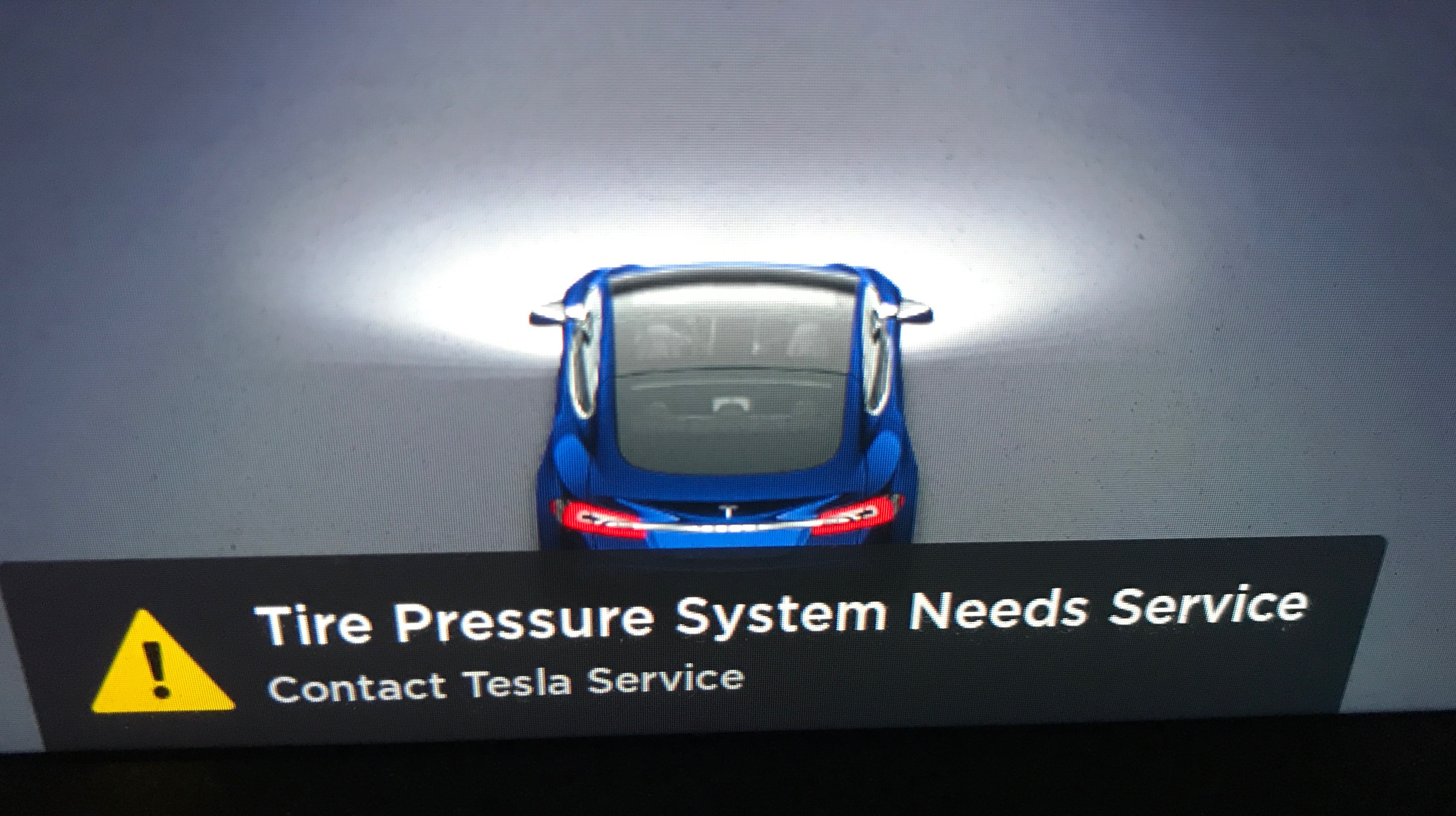 4. The Replacement
I got a text message from Tesla service later that day after the tow truck driver delivered the tire to them.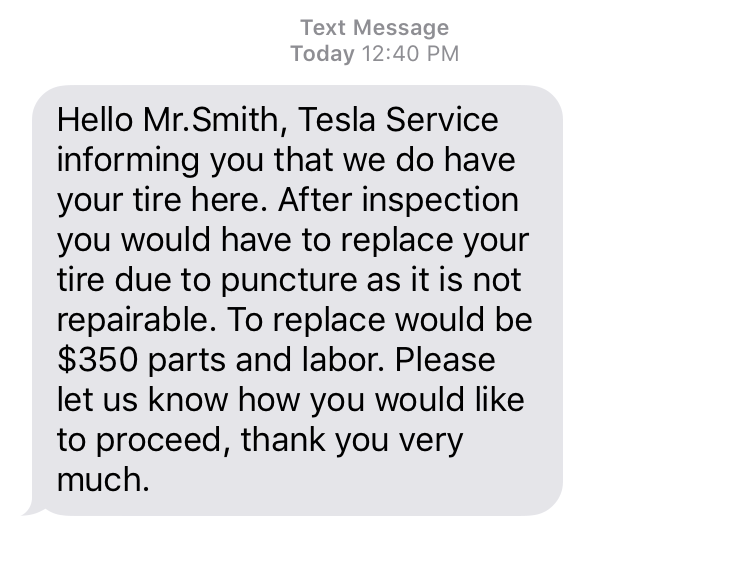 First, let me say how much I loved that this was a text and not a phone call. While a bit silly I really loved that I could handle the entire process of scheduling the replacement over text message. That way I could just pick up the conversation as I was free and didn't feel like it intruded into my day very much.
As I'd guessed when I saw that big chunk of metal sticking out of my tire I was told that I needed a new tire and that the cost for the replacement would be $350. Which is a bit higher than I may have hoped for, but certainly not unreasonable. I was able to authorize the work to begin changing the tire on my rim and schedule a time for me to drop in to have it put on. This ended up being 5 days after I got the flat because that worked best for me.
I brought my car in and they replaced the tire, reset the tire pressure monitoring system and gave it a good wash. The appointment was quoted at around an hour, but ended up more like 2 hours.
General observations
This happened to me in probably one of the more ideal circumstances. We were driving on quiet roads and were able to pull over into a neighborhood. The nearest Telsa Service center is only 10 miles away and the tow truck was within an hour. I'd expect that if this had happened to me out on the highway, in the middle of nowhere things would have been a bit more tricky or at least taken much longer. But hopefully the general process would follow the same smooth progression.
Overall, I was very pleased with the process. The lack of spare had given me a bit of pause when we were first considering the car but this process went off without a hitch and was about as painless as I could hope for given the circumstances. In a funny way it is slightly liberating to not have a spare in the trunk, so no matter what happens I have to call for professional help. This mean I'm never having to put myself in a potentially awkward or dangerous situation roadside.
October 10 th , 2017 David Smith David Smith
Copyright © 2023 — David Smith All Rights Reserved.
I use affiliate links when linking to iTunes and Amazon.
Tesla's Mobile Tire Service Is A Game-Changer
Teslas are like most vehicles in that they have four wheels, a go pedal, a stop pedal, and the like, but when it comes to changing tires, things get a little strange.
February 13, 2020
What To You Do When Your Tesla Gets A Flat?
(Tesla Raj Takes One For The Team)
Teslas are like most vehicles in that they have four wheels, a go pedal, a stop pedal, and the like, but when it comes to changing tires, things get a little strange. Because Tesla vehicles cannot be towed with a traditional tow truck and must be put on a flatbed to be moved around, Tesla has opted to start up its own Mobile Tire Service team to come to the rescue when owners get flat tires.
YouTuber Tesla Raj documented his experience with the Tesla Mobile Tire Service Team and found that not only were they able to change his tire, the response time was impressive. Rewinding to the real world, in which cars make noise and tires take hours to change, the process is daunting at best. When he realized his Model 3 had a flat tire, all it took was a quick phone call to Tesla's In-Car Assistance Number and the wheels were set in motion.
Nobody really knows what happens behind the curtain at Tesla, but whatever it was in this case, Raj received a phone call a few minutes later from a Tesla Mobile Tire Service Technician. The technician confirmed he was 45 minutes out and already en route. The response time was impressive considering it takes a phone call or two to a normal tire shop just to confirm the correct tires are in stock, and that their installers have availability.
The Tesla Mobile Tire Service Technician showed up on site and promptly started working to select a tire from the onboard cache of tires. Tesla not only knows what tires its vehicles use, but also which tires will fit the specific configuration on your vehicle. That's a nice improvement over traditional tire shops, which put the burden of sizing and tire selection on the owner.
The big win here is really that Tesla comes to you with the tires. They met Raj where he was, swapped out the tire, and he was back on the road in about an hour and fifteen minutes. No more towing the car to the nearest tire shop or pulling off the tire and hitching a ride to where you're going. Just leave the car where it is and Tesla comes to you with a fresh new tire.
The downside here is the price. The tire selection is limited to what will fit in Tesla's Service vehicles, and you don't really have the option to choose a lower price tire or price match with online tire shops. Having said that, it may be worth paying a few extra bucks for the convenience of having the tire shop come to you. I sure am tempted.
If CleanTechnica has helped you learn about Tesla or Tesla's Energy products, feel free to use my Tesla referral code — https://ts.la/kyle623 — to get 1,000 free Supercharging miles with the purchase of a new Tesla vehicle or a $250 award after activating a new Tesla solar system. If you're anything like me, the award serves as a nice bonus after doing something great and feels a lot like finding a toy in a box of cereal, back when that was still a thing.
Sign up for daily news updates from CleanTechnica on email. Or follow us on Google News!
Have a tip for CleanTechnica, want to advertise, or want to suggest a guest for our CleanTech Talk podcast? Contact us here.
Solar PV & Farming — Trends In Agrivoltaics
I don't like paywalls. You don't like paywalls. Who likes paywalls? Here at CleanTechnica, we implemented a limited paywall for a while, but it always felt wrong — and it was always tough to decide what we should put behind there. In theory, your most exclusive and best content goes behind a paywall. But then fewer people read it! We just don't like paywalls, and so we've decided to ditch ours. Unfortunately, the media business is still a tough, cut-throat business with tiny margins. It's a never-ending Olympic challenge to stay above water or even perhaps — gasp — grow. So .
If you like what we do and want to support us, please chip in a bit monthly via PayPal or Patreon to help our team do what we do! Thank you! Advertisement
Tesla kills yearly service program, focuses on EV requiring less maintenance
Tesla is moving away from its yearly service program as it focuses on an as-needed approach based on the fact that electric vehicles require less maintenance.
Like most automakers, especially premium automakers, Tesla has been offering extended service plans with yearly service inspections for its vehicles.
The offering was partially contradictory to the claim that electric vehicles require less maintenance.
But now that its reliability has improved, Tesla feels confident that they can move to an as-needed model instead of offering yearly service inspections.
With internal combustion engine vehicles, some of the most commons maintenance items are oil changes and brakes, but EVs don't use the former and they use the latter a lot less than ICE cars thanks to regenerative braking.
Despite the move, Tesla still recommends some maintenance services:
Cabin Air Filter
Your Tesla is equipped with an air filter that prevents pollen, industrial fallout, road dust and other particles from entering through the vents. Tesla recommends replacing your cabin air filter every 2 years.
High Efficiency Particulate Air (HEPA) Filter
If your Tesla is equipped with a HEPA filter, Tesla recommends replacing it every 3 years.
Tire Rotation, Balance and Wheel Alignment
Tesla recommends checking your tires every 10,000-12,000 miles for rotating, balancing and aligning needs. Aggressive driving can lead to premature tire wear and may require more frequent tire service. Unbalanced and misaligned wheels affect handling, tire life and steering components. Refer to tire manufacturer's owner manuals and warranty documentation for additional details.
Brake Fluid Test
Tesla recommends testing brake fluid for contamination every 2 years and replacing as needed.
Air Conditioning Service
An air conditioning service replaces the desiccant to help the longevity and efficiency of the air conditioning system. Tesla recommends an air conditioning service every 2 years for Model S, every 4 years for Model X and every 6 years for Model 3.
Winter Care
Tesla recommends cleaning and lubricating all brake calipers every 12 months or 12,500 mi for cars in cold weather regions.
Electrek's Take
It makes sense that they would try to reduce the workload on Tesla's service centers, especially at the pace the fleet is growing.
While many premium car buyers like to service their cars through dealers, Tesla is betting on its electric vehicles needed less service.
The company still recommends several things to do about maintenance, but it can be provided by other garages.
Hopefully, it will help free up some time at Tesla service centers.
Elon has been saying recently that Tesla is working on solving the long service wait times.
I think Norway will interesting to take a look at when it comes to service. They are adding so many electric vehicles to the roads there thanks to the Model 3
The new vehicle will either result in more stress on local service centers, which already had issues before Model 3, or the vehicles will prove to be reliable enough not the put even more pressure on the service team.
Norway could turn into an interesting glimpse into the future.
FTC: We use income earning auto affiliate links. More.
Stay up to date with the latest content by subscribing to Electrek on Google News. You're reading Electrek— experts who break news about Tesla, electric vehicles, and green energy, day after day. Be sure to check out our homepage for all the latest news, and follow Electrek on Twitter, Facebook, and LinkedIn to stay in the loop. Don't know where to start? Check out our YouTube channel for the latest reviews.