What are major faults in driving test?
We take you through the top 5 reasons why learner drivers fail their driving tests
Let's face it – nobody goes into a driving test wanting to fail.
But, sometimes anxiety sets in, or you make silly decisions which end up costing you the chance of getting that little pink driving licence card.
That's where we can help – by teaching you the most common reasons for people failing their driving test. We hope this can show you what to avoid, what skills to work on before the big day, and how you can progress going forward.
What does the driving test look like?
So, as you're probably aware, the driving test is the final hurdle to becoming a fully-fledged licence holder. The light at the end of the tunnel. The beacon of hope for learner drivers.
However you want to phrase it – it'll feel like a big deal to you at the time. But, it's really not as scary as you may think.
Usually, you'll arrive with your driving instructor, sign in, and wait around until it's your turn at the wheel. Then a quick eyesight test and safety questions, before jumping in the car for a drive lasting around 40 minutes.
During the test, the examiner will want to put your skills to the test, by asking you to undertake some manoeuvres. These are things that should be covered in your lessons, so don't worry too much – simply follow their instructions, and remember what you've been taught.
You will be told where to drive for the most part, but you will most likely be asked to independently drive in certain sections too. Once you've finished, and return to the test centre, the examiner will tell you the results, and whether you've passed or failed – then will also give you some feedback to let you know how many faults you have received in your test.
But, how many of these faults are you allowed to get, to pass your driving test?
What are the different types of faults?
In your driving test, there are 3 types of faults that you can receive:
Driving Fault
Serious Fault
Dangerous Fault
But what do they mean?
When you are taking your test, you are likely to make a couple of small mistakes – perhaps you stall, or fail to indicate early enough when you approach a junction.
These will usually be counted as a driving fault, because in these scenarios, they haven't caused any potential danger to other road users, but if you keep repeating the same fault throughout your test (3 or more times), it will usually be upgraded to a serious fault.
You will only receive a serious fault if you make an error that could potentially be dangerous (For instance, driving through a red light on an empty junction). If you make a mistake, and actively endanger yourself, the public, property, or the examiner, you will receive a dangerous fault (i.e. Driving on the wrong side of the road).
How many faults are you allowed on your driving test before you fail?
As a general rule of thumb – try to avoid serious or dangerous faults (often referred to as majors), as they will see you fail immediately. If you hope to pass your driving test, you cannot commit any major faults.
But, what about less severe (driving) faults?
You are allowed to receive up to 15 driving faults (known as minors), while taking your driving test. These don't endanger other drivers, hence the higher tolerance – but it's worth noting that if you keep repeating the same driving fault over and over again, this may turn into a major fault, as already mentioned.
Click here to familiarise yourself with an example of a driving test report
What are the most common reasons for failing the driving test?
Now, we turn our heads towards the reason you clicked on this guide. So, let's start with the most common reasons, as provided by the DVSA:
Not making effective observations at junctions
This can cover anything from making sure it's safe to proceed, to making observations before you turn into a junction.
Did you know? 39% of accidents are caused by drivers failing to look properly, according to Compare the Market.
Any mistake like this will be classified under Junctions – Observations on your examiner's marking, but what are examples of this fault?
Looking too late.
Failing to judge the speed of an approaching vehicle.
Making no observations when joining a carriageway using a slip road.
Just like all other faults, the classification of minors or majors will often be determined by the severity of the fault. So, make sure you check your mirrors properly look before making any sort of manoeuvre in your car.
Not using mirrors correctly when changing direction
It's something that sounds very simple – look in your mirrors before changing direction, but it's amongst the most common reasons for learner drivers failing their tests.
Effectively checking your mirrors will help to protect yourself and other users – remember the 'mirror, signal, manoeuvre' expression before any action – whether that's changing direction or simply increasing your speed.
All mistakes like this will be classified as Mirrors – Change Direction on the marking criteria, and can include any of the following:
Not using mirrors when exiting a roundabout.
Trying to change lane on a roundabout when a vehicle is directly alongside.
Causing a vehicle to slow when changing lanes on a dual carriageway.
Inadequate control of the steering wheel
Think back to your first lesson – you probably were told to keep your hands at the '10 and 2' position. Right?
We'll assume you said yes. Although that's just part of the reason people fail for this mishap.
According to RAC Foundation, errors and reactions account for up to 62% of fatalities in reported road-accidents, which includes poorly turning or manoeuvring.
So, what should you look out for, to make sure you don't follow the same mistakes – listed under Control – Steering in the criteria for marking:
Repeatedly not steering enough.
Steering late, when turning into a minor road.
Repeatedly mounting pavement, when pulling over to the left.
Incorrect positioning when turning right at junctions
Since 2010 – 11 this has been amongst the top 4 biggest reasons for people failing their test, since 2010/11 [1] .
Essentially, it's all about drivers positioning their car as close to the centre of the road, as is safe, without moving onto the other side of the road, and will be marked down as Junctions – turning right on the examiner's sheet.
But, it's not all about getting over to turn right – there's also other mishaps that fall under this category:
Positioning in the left-hand lane when turning right at a roundabout
When you want to turn right at the end of the road, you incorrectly position to the left.
It may not seem like a big deal at the time, but other road users will look at your positioning as an indication of where you plan to go, which can be very dangerous if you aren't making it crystal clear.
Not moving off safely
Finally – moving off safely, but what does this mean? Simply put, you will need to make the correct observations, when you pull off, after being static.
Whether it's from the side of a road, on a gradient, or when parked behind a vehicle, you need to make sure you remember what you were taught in your driving lessons, and bring these learnings into action – otherwise, you will be given a fault under Moving off – Safely on the marking criteria.
So, as a learner driver, how can you make sure you avoid this in your driving test? Well, take a look at some of the mistakes around this, to help strong-arm you in your bid to pass:
Repeatedly moving off from the side of the road with no blind spot checks.
Not making any rear observations when moving off following an emergency stop.
Moving off from behind a parked vehicle into the path of an approaching vehicle.
Driving Test Faults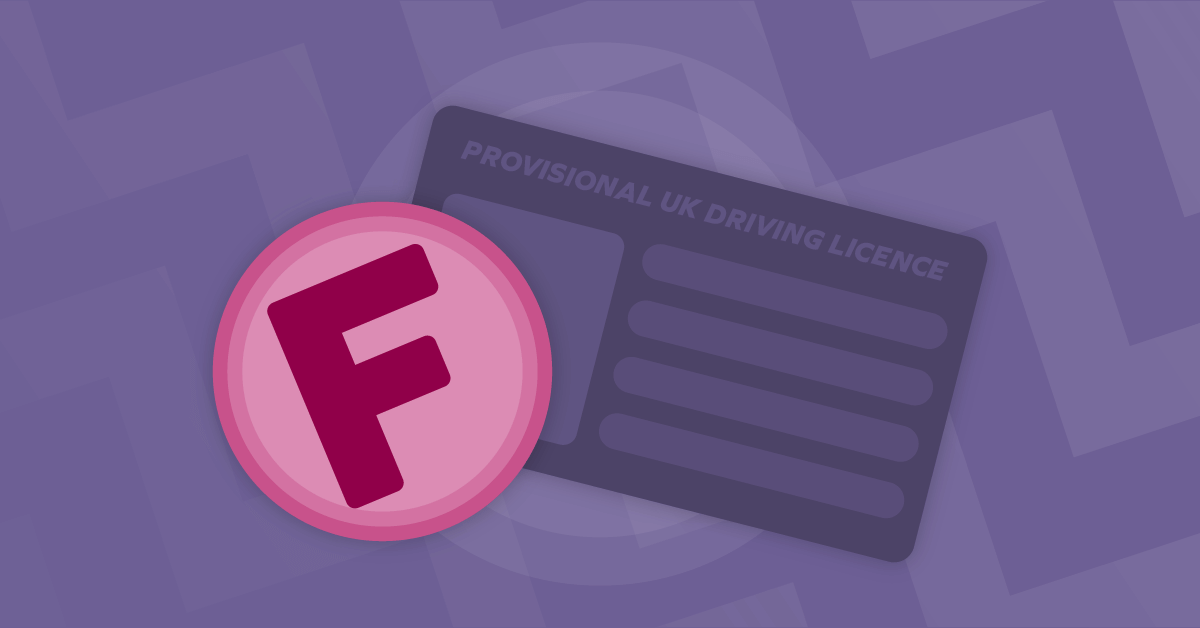 What is a fault and how many can you make during your driving test?
It's extremely uncommon to come out of a driving test with a clean sheet. Most people will get at least a few minor driving test faults during their test and that's okay. The examiner isn't expecting you to be perfect; very few people are – especially in a high-pressure test environment!
We'll run through the most common faults made during a driving test, how you can avoid them, and what you can expect to happen if you make one.
Types of fault
There are 3 types of fault you can make during your driving test:
Driving fault – also known as a minor, this isn't potentially dangerous, but it could become a serious fault if repeated.
Serious fault – also known as a major, this has the potential to cause danger.
Dangerous fault – also known as a major, this involves actual danger to you, the examiner, the public, or property.
Driving test marking sheet
Your driving examiner will fill out a marking sheet during your test, and you'll get a copy of it at the end. This is what the examiner uses to make their decision. We know it looks a bit scary with all those fields, but it's basically just a list of all the categories you'll be marked on. This is exactly what you've prepared for, you've got this.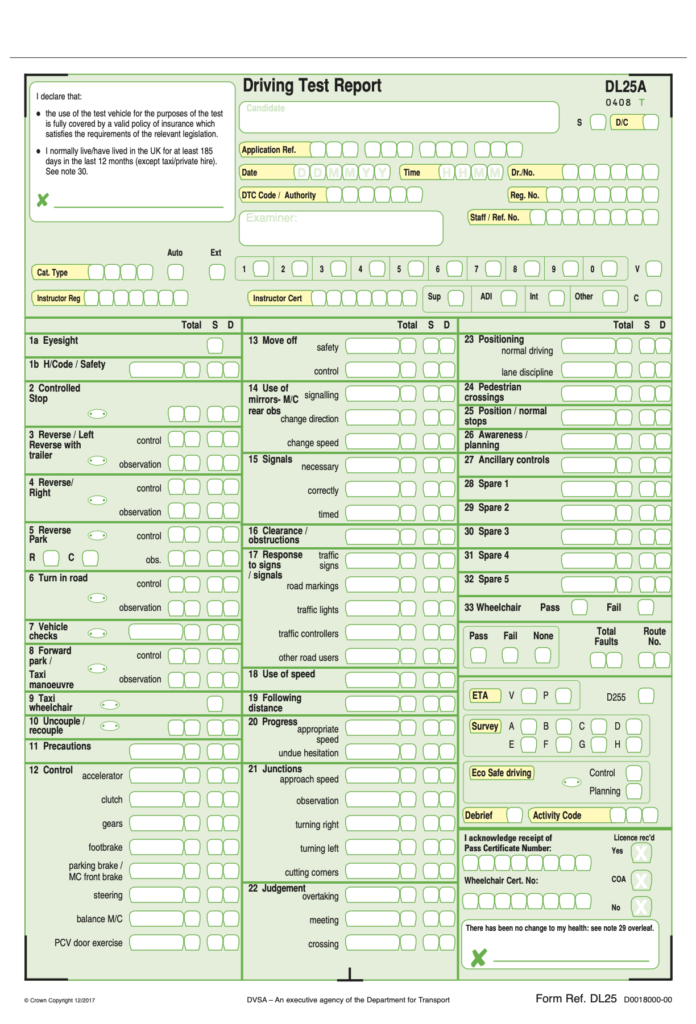 Common driving test faults
1. Observation at junctions
You'll need to show awareness of any hazards when approaching a junction, and prove you can pull onto a new road safely. If you don't recognise potential hazards, it could cause danger to you or others and land you with a minor or major fault on your test. 'Mirror-signal-manoeuvre' will be key here!
2. Mirrors – changing direction
Using your mirrors properly will make driving safer and smoother. They should be used before any manoeuvre, such as changing speed, switching lanes, and to check on the space around you.
Did you know that failing to check your mirrors before changing direction is a common reason drivers don't pass their test? That's why exaggerating your mirror checks is one of our top 10 tips to pass your driving test first time. Make sure to use both the wing-mirrors and the rear-view mirror to check on the space around you, other vehicles, cyclists, and pedestrians before turning.
3. Control – steering
Follow the curb smoothly, but try not to get too close! To avoid a major driving test fault, keep your hands at 10 to 2 for good control of the wheel. This will help to keep you on a steady course.
4. Junctions – turning right
Driving examiners like to get this in there as a tricky manoeuvre. Take it slow and use your mirrors before signalling. You'll need to make sure the lanes are clear of cyclists and pedestrians, as well as cars, before pulling out onto the road.
5. Moving off safely
During your test, you'll be marked from the get go, so checking your blind spot before moving off will steer you in the right direction. You may also be asked to move off at another point in the test, either way it's a given and could be crucial to your success! Checking your blind spot will help to take care of cyclists and pedestrians.
6. Moving off – control
Showing you're in control when moving off involves a few different things. You don't want to move off while the hand brake is up for example, or roll backwards if you're on a hill. Likewise, be careful to avoid stalling the car. We know it's every learner's worst nightmare to stall during the test, but if it does happen, don't panic. In most cases, you'll only get a minor fault for stalling.
7. Response to signs – traffic lights
Driving through a red light is classed as a major fault, but there are other things to look out for too. Think outside the box.. Stopping inside the yellow box will block off other road exits and could mean you'll fail the test. If you're going to drive over it, make sure there's enough room between you and the car in front. Other things to keep in mind are, staying behind the stop line and not waiting too long at a green light.
8. Response to signs – road markings
Show the examiner you're paying attention to road markings. Don't get caught out by switching lanes over a double white line and make sure you're following the lane direction arrows. Your theory test will help with this!
9. Positioning – normal driving
Your car should stay in the middle of the lane markings, or slightly to the left if it's a wider road. Remembering the 2 second rule when it comes to the car in front will help you ace this part of the test too.
10. Reverse park – control
You'll have to complete 1 of 3 parking manoeuvres during your test and reverse bay parking or parallel parking are tricky even for experienced drivers. The examiner will be looking out for observation, control, and accuracy, so try to avoid needing to reposition the car after you've parked. Keep checking on pedestrians, approaching cars, and the curb.
11. Driving test minors
A minor fault isn't potentially dangerous to you or your surroundings. For example, you could pick one up for missing one of the examiner's directions, or touching the curb gently while carrying out a manoeuvre. The examiner will decide how to mark the fault, but your driving instructor will have prepared you to know what to look out for.
Not got an instructor yet? Check out the 6 things to think about when choosing a driving instructor.
How many minors can you get in a driving test?
You can get 15 minors and still pass your driving test. However, you'll fail the test for getting 3 minors in the same category.
Major faults in a driving test
Both serious and dangerous faults are classed as major and making one of these will mean you'll fail the test. Here's a few major faults to look out for:
Driving too slow and not following the speed limit
Pulling onto a road when it's not safe to do so
Mounting or driving into the curb forcefully
You'll still have to complete the test if you make a major fault, and you won't find out if you've failed until the end. Ultimately, it's up to the examiner to decide whether a fault is marked as a major or not.
Can you fail your driving test for stalling?
You might not believe it, but stalling the car doesn't mean you'll instantly fail your test. It's likely you'll only pick up a minor fault. Whether it leads you to fail depends on how it happened, how many times, and how you responded. So keep calm and try not to panic.
To get the car moving again, press the brake before switching the engine back on, and make sure to check your mirrors and blind spot before driving off. Remember that the handbrake should be used as a precaution if you stall on a hill.
How to avoid driving test faults?
Most of these faults can be avoided by having good observation whenever you're driving, parking, or carrying out a manoeuvre. Remember that, by the time you sit your test, you'll have had plenty of time on the road, either with your instructor or practising with family or friends, so don't panic, stay calm, and take your time.
If you do fail your driving test, try not to be too hard on yourself. The practical driving test is really tough. On the plus side, you'll know exactly what to expect next time. Here's our tips on what to do next if you fail your driving test.
If you're worried about your driving test, it might be a good idea to get in some practice with a friend or family member. Make sure you're covered with learner driver insurance before getting behind the wheel.
Pass Your Drivng Test 1st Time!
There are 2 classifications of any mistake that a learner driver makes during the UK practical car driving test, so what are they? This is a very common question I get asked a lot by readers of this driving school blog, so I thought a video with some answers is in order. The examiner will either mark a driver error or serious/dangerous error these have come to be commonly known in the the industry unofficially as Major and Minor driving test faults on the UK.
I'm not sure where the term originated from, but the Driving Standards Vehicles Agency currently does not use the term for faults, errors or mistakes made on the practical driving/riding test.
Any mistake made during the test are called driving errors, and you are allowed a maximum of 15 errors and still pass the test (committing the same driving error or fault more than 3 times COULD also mean a failure if the examiner classifies it as a habit that should have been dealt with by the instructor or supervising driver). You should however note that if any of the driving errors is classified as a serious or dangerous error, then you will fail the test irrespective of whether there are 15 or less total driving errors.
One of the most common things I've seen amongst learner drivers coming to me for a lesson or two before the driving test, is not treating little mistakes serious enough, because generally it would be classified as a MINOR. Instead of putting in the effort to get rid of the habit, they want to go and see the driving examiner as is! Some of them have gotten away with it passing the test first time, but many more have unfortunately not made it on the first go, so listen to any advice from your adi.
Need some affordable driving lessons to help you pass this hard UK driving test, why not get in touch with me if you are in the North London area or have an assessment at any of these centres: Hendon, Mill Hill, Barnet, Borehamwood, Watford or Pinner?
DSA Examiner Driving Test Routes
As an instructor over the years I have seen some very good drivers get tripped up at some tricky places on some of the routes by examiners in the NW London area, so I have made these tutorial videos to cover these situations.
Each video covers what I have found out to the toughest route, and has additional tips on other places or things that you should be aware as a driving test candidate. These are offered as complimentary preparation materials to your lessons or private practice sessions.
Hendon Driving Test Routes Video 2015
£4.99 Buy Now
Mill Hill Driving Test Route Video
£4.99 Buy Now
Borehamwood Test Centre WD6 Route Videos
List of Common Driving Test Serious Faults in The UK
1. Junctions, not taking effective observations before emerging
2. Ineffective Observations when moving off (Not checking RIGHT BLIND SPOT)
3. Lack of Control during manuevers (This usually means you didn't do the exercise at the standard required, hitting the kerb, to wide reversing round corner, not completely in the bay).
4. Not using mirrors effectively. Remember MSM when dealing with an hazard, not just turning.
5. Incorrect use of speed during the driving test. One major failing point for a lot of learners is driving too slow! Obviously you fail if you persistently break the speed limit.
6. Wrong use of signals during the test, this error is usually due to the candidate forgetting to cancel a signal after turning, though you can also fail for not signally before a junction.
7. Poor road positioning, vering out of lane on dual carriageways or roundabouts and when turning right from a Major road to a minor one.
8. Poor steering at junctions, going too wide or mounting the kerb which is reserved for pedestrians.
As you can see, it is quite common to fail on things that you might think are minor, so take time to get enough practise and deal with any weaknesses before going for the driving test, as the DSA examiner only needs ONE serious error to fail you on the DL25 report sheet.
For more tips like those provided on this DSA major and minor faults video, please feel free to subscribe to Driving Test Tips and get future articles sent directly to your inbox by Email.