What car has sold the most?
Tesla Model Y Set to Take Top Spot as World's Best Selling Car in 2023





Tesla's CEO, Elon Musk, once said, «I say something, and then it usually happens. Maybe not on schedule, but it usually happens.» In April 2021, Musk predicted that the Model Y would be the world's best-selling vehicle. He wasn't sure if it would happen in 2022, but he was confident the electric SUV would take the global crown from Toyota's Corolla in 2023.
Moving on Up
According to a report from Focus to Move, the Model Y is now the fourth best-selling vehicle worldwide after an astonishing 88 percent jump from 2021 to 2022. There were 759,000 Model Ys sold last year, just 28,000 units behind the third-place Ford F-150 which has been the best-selling truck for the previous 46 years. Toyota claimed the top two spots, with the RAV4 at 870,000 and the Corolla selling 1.12 million.
The runway is clear for the Model Y to vie for the world's best-selling car title in 2023. There are three critical elements to achieve the goal: capacity, demand and competition.
Capacity
First, capacity. To reach the top spot, the Model Y will need to increase its sales by approximately 60% compared to 2022, which is a very achievable goal, considering both the Giga Texas and Giga Berlin factories aim to produce 500,000 cars per year. During Tesla's Q4 earnings call, Elon Musk said Tesla plans to produce about 1.8 million vehicles in 2023, up about 37% from 2022. Musk later added that Tesla may be able to reach 2 million vehicles in 2023, which would be an increase of 52% over its 2022 numbers.
Demand
Second, demand is there. In the wake of the recent price drops, Bank of America predicts Tesla's volume to jump 53 percent, up from its original forecast for 17% growth. Also, Musk said during the fourth quarter earnings call that the company is receiving the most orders year to date in its history. Plus, the price tag of the Model Y and Model 3 is now very close. As a result, many buyers may consider getting into the slightly larger Model Y over the Model 3.
Competition
Thirdly, the competition. Toyota's Corolla is half the price of the Model Y. Therefore, to grab the top spot in the world, the Corolla will have to come down a few pegs. As the manufacturer is playing catch up on the EV market, perhaps the bZ4X will take away from Corolla's typical buyers.
Top 5 Cars Sold Worldwide
Below is a list of the top 5 vehicles sold worldwide, as compiled by Focus2Move. It's not clear whether Focus2Move includes used cars in their figures or if they include sales for vehicles that have yet to be delivered.
| | | |
| --- | --- | --- |
| Model | Units Sold | Pct Change |
| 1. Toyota Corolla | 1,120,000 | -2.2% |
| 2. Toyota RAV4 | 871,220 | -13.7% |
| 3. Ford F-Series | 786,303 | -8.8% |
| 4. Tesla Model Y | 758,792 | +88.5% |
| 5. Toyota Camry | 676,845 | -2.7% |
Don't miss out!
Subscribe to our newsletter to be the first to know about Tesla's upcoming features and new software updates.
Tesla FSD Beta 11.4.1 is Excellent states Elon Musk
May 6, 2023
By Kevin Armstrong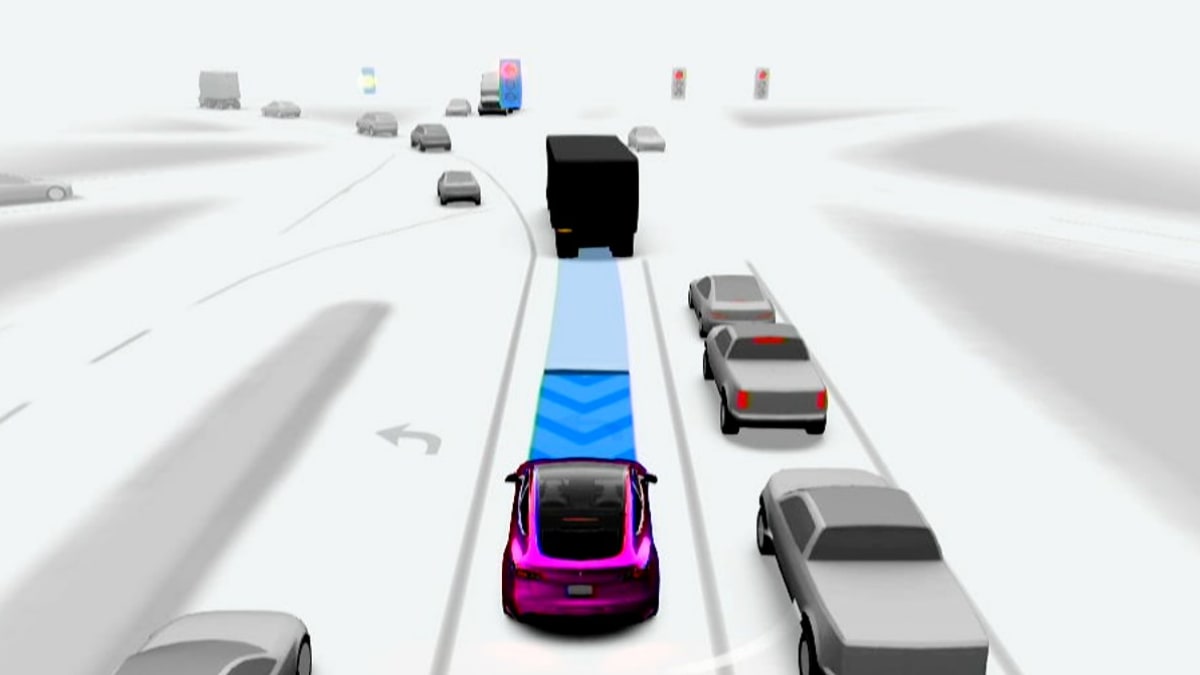 FSD Beta 11.4.x will be the next major FSD Beta release
Tesla
The excitement around Tesla's Full Self-Driving (FSD) Beta 11.4.1 update continues to build after Elon Musk shared his latest experiences with the system. Musk tweeted about FSD Beta 11.4, stating it was «excellent» after driving to random pin drop locations in Austin, Texas, with «zero safety-critical interventions.»
Video Showcases Impressive FSD Performance
Musk was responding to a tweet from Whole Mars Catalog, a popular Tesla-focused Twitter account. The tweet showcased the impressive performance of FSD Beta 11.3.6. In a recent video (below), his Tesla successfully navigated from Fort Point to Chestnut Street in San Francisco, California, with zero takeovers. The car demonstrated its ability to handle several situations involving pedestrians safely and effectively.
FSD Beta 11.4 released to Tesla employees two weeks ago. The company prioritized refining vehicle performance rather than introducing new features in this update. Notable improvements include enhanced pedestrian recognition and response, better responsiveness to vulnerable road users, and weather-adaptive speed control.
Enhanced Safety Features and Driving Performance
Tesla's commitment to perfecting its FSD technology is evident in the rapid succession of updates and refinements. The company has used fleet learning, user feedback, and rigorous testing to bring autonomous driving closer to reality. As Tesla continues to expand its fleet of FSD Beta testers, crucial data is gathered to make further enhancements and address challenges faced in previous versions.
As Tesla moves closer to a public release of FSD Beta 11.4.1, users eagerly await the enhanced safety features and improved driving performance that this cutting-edge technology will bring to their vehicles. Elon Musk's recent tweet and Whole Mars Blog's video are sure to heighten anticipation among Tesla owners and enthusiasts.
While Tesla works tirelessly to advance its autonomous driving system, Elon Musk continues to emphasize the importance of driver vigilance while using the FSD Beta. The system may not detect all objects or brakes for crossing traffic or stationary objects, particularly at high speeds. However, Tesla's continuous push for autonomy and commitment to addressing these challenges make it clear that the company prioritizes safety as it moves towards a future with autonomous vehicles.
The 11 Largest Car Companies In The World
Cite This Webpage Zippia. «The 11 Largest Car Companies In The World» Zippia.com. Apr. 13, 2023, https://www.zippia.com/advice/largest-car-companies/
Largest Companies
Transportation
Largest Car Companies
Largest Cruise Lines
Largest Railway Companies
Largest Water Transportation Companies
Largest Airlines
Largest Car Rental Companies
Largest Car Companies Research Summary
The largest car company in the world is Volkswagen, with $293.83 billion in revenue and a 1.8% market share in the U.S.
The market size of the global car industry is $2.86 trillion U.S. dollars.
The car industry is projected to grow at a CAGR of 4.03% through 2030.
Americans bought nearly 3 million automobiles in 2022.
The first gas vehicle was introduced to the public in 1886, and we've been riding along on four wheels ever since. Cars allow people to get where they need to go, whether that's ten minutes down the road to work or across North America. They are one product on the market that's considered a necessity for the majority of consumers.
With its grave importance in modern society, it probably doesn't come as a surprise that the car industry stimulates the United States economy with nearly $500 billion annually. This yearly total of revenue is supplied by a series of big players in the automotive field around the world.
The 11 Largest Car Companies in the World: A Closer Look
Volkswagen Group of America. Headquarters: Wolfsburg, Germany Number of Cars Sold 2022: 4.56 million 2022 Revenue: $293.83 billion Even in the United States, Volkswagens are commonly seen on the road in a variety of shapes and colors, but few of these car owners know that the company was originally state-owned by the Nazi Socialist Party in Germany in 1937. Adolf Hitler and his government marketed it as "the people's car." It was a much cheaper alternative that was promoted as still having the desirable qualities of the more expensive cars being produced in Germany at the time, like BMW. Just as the car was gaining popularity among Germans, World War II began in 1939 and production ceased. In post-war Germany, Volkswagen was looked at as the country's chance to restart the economy and car industry. It took a long time for Volkswagen to get anywhere internationally because it was associated with Nazi Germany. To fight this stereotype, Volkswagen sold a majority of its shareholdings to the public in 1960. It worked. By 1972, their unique bulbous car called the Beetle had broken the world record for production at 15 million vehicles made. In the 50 years since their reemergence into the market as a public-owned company, Volkswagen improved upon its original negative image and became the largest car company in the world.