What is the fastest Police Interceptor car?
Ford's New Turbocharged F-150 Truck is America's Quickest Police Car
The 2021 Ford F-150 Police Responder, a truck, is the quickest police car in the U.S. Test data from two police vehicle testing organizations show that the vehicle has a quicker zero to 60 mph, zero to 100 mph, and quarter-mile time than any other new law enforcement vehicle sold in America.
Finalized data from the Los Angeles County Sheriff's Department saw the F-150 Responder hit the quarter-mile in 14.4 seconds, a second faster than the 2020 F-150 Responder and nearly half a second faster than the closest competition.
Preliminary data from the Michigan State Police records the truck as being able to get to 60 mph off the line in 5.4 seconds, which is 1.2 seconds quicker than the outgoing model and 0.4 seconds faster than any other vehicle tested. Under the same supervision, the truck's zero to 100 mph time was 13.1 seconds, 3.7 seconds quicker than the 2020 version of the F-150 Police Responder and 0.8 seconds faster than the runner up.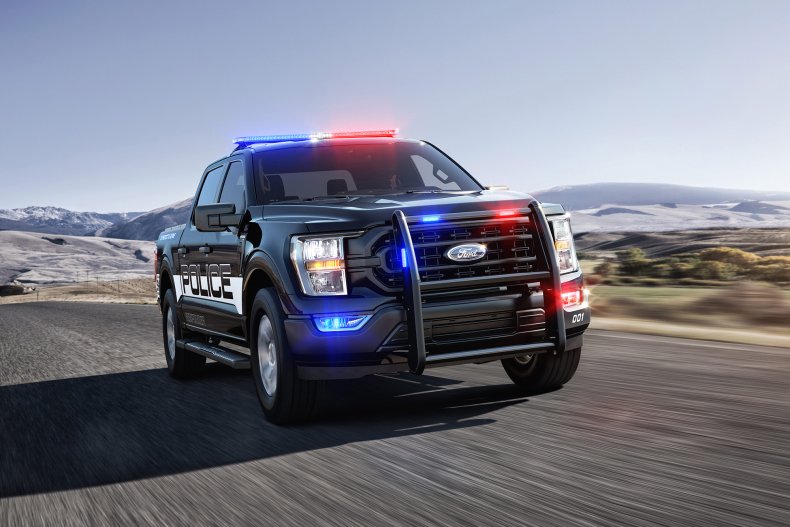 «Vehicle acceleration and speed contribute to how quickly first responders can safely arrive at an emergency scene,» said Greg Ebel, Ford police vehicle brand manager. «Shaving even a few seconds off response times can make a big difference. Whether responding to an accident on the highway or a distress call from somewhere off-road, law enforcement officers can count on 2021 F-150 Police Responder to get them there fast.»
The truck has a top speed of 120 mph.
Ford has built the F-150 Responder to deliver 400 horsepower and 500 pound-feet of torque courtesy of its 3.5-liter EcoBoost V6 engine. That's more torque than any other pursuit-rated vehicle sold today in the U.S. It also has automatic on-demand four-wheel drive.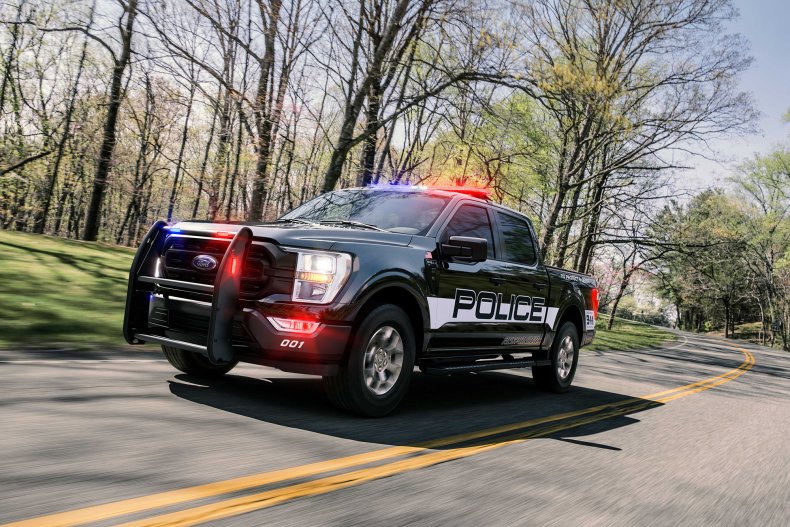 There is no other pursuit-rated police truck available for sale from any major U.S. automaker. Dodge makes the Charger Pursuit and Durango Pursuit, both of which were refreshed for the 2021 model year. The Charger got a new transmission and is now available with all-wheel drive. It has a new top speed of 140 mph and gained Apple CarPlay and Android Auto.
Dodge added more than 20 new standard features to the Durango Pursuit for the new model year including an IP-mounted shift lever, black steel wheels with chrome caps and four programmable auxiliary switches.
The Chevrolet Tahoe Police Pursuit Vehicle (PPV) was redesigned for the 2021 model year following a generational changeover in the Tahoe and Suburban product lines. It comes standard with a 5.3-liter V8 that makes 355 horsepower and 383 pound-feet of torque. Four-wheel drive with terrain mode selection ability is available.
Ford also sells the Police Interceptor Utility, a modified, pursuit-rated version of the Ford Explorer meant to address the needs of modern police departments who often find that traditional police cars don't have the passenger and cargo capacity they require.
The company also offers the F-150 Special Service Vehicle (SSV), Expedition SSV, Expedition Max SSV, and Transit Prison Transport Vehicle. None of those models are pursuit-rated.
MSP Ranks the Fastest Police Vehicles of 2022
The Michigan State Police held its annual police vehicle tests in September and has recently released the full report of all 2022-MY vehicles and motorcycles tested.
The Michigan State Police has been testing police cars since the 1950s. Successful test results from MSP and the Los Angeles Sheriff's Department validate manufacturers' engineering efforts in building a car capable of handling the stresses associated with police pursuits. The MSP recommends that agencies apply the information to the needs of their departments.
Vehicles are tested on acceleration, top speed, braking, and dynamics. This year, the police vehicles tested were:
Chevrolet Tahoe 5.3L RWD
Chevrolet Tahoe 5.3L 4WD
Dodge Charger 3.6L AWD
Dodge Charger 5.7L RWD
Dodge Durango 3.6L AWD
Dodge Durango 5.7L AWD
Ford Police Interceptor Utility Hybrid AWD
Ford Police Interceptor Utility 3L EcoBoost AWD
Ford Police Interceptor Utility 3.3L AWD
Ford F-150 Police Responder 3.5L EcoBoost
Ford Mustang Mach-E AWD
For vehicle dynamics, the Ford PIU 3L EcoBoost AWD had the fastest average lap speed of 1:36:01. The second fastest was the Dodge Charger 5.7L RWD, with an average of 1:36:43.
For the acceleration test, the Mach-E achieved the fastest 0-60 mph and 0-100 mph at 4.03 seconds and 11.94 seconds. This was followed by the PIU 3L EcoBoost at 5.45 seconds and 13.47 seconds. The PIU 3L EcoBoost was the fastest vehicle tested, achieving a top speed of 148 mph, followed by the two Chargers, which tied at 139 mph.
For more police news, sign up for the Police Fleet newsletter here.
During brake testing, the Mach-E had the shortest projected stopping distance from 60 mph of all vehicles tested (125 feet), followed by the Chevrolet Tahoe 5.3L RWD at 129.1 feet.
Vehicles were also rated for ergonomics and communications — officers provide scores for the ergonomics section, while another team determines the difficulty of installing required communications and emergency warning equipment.
In communications, the Dodge Durango scored highest (9.78 points out of 10), with top scores in dashboard accessibility, trunk accessibility, and in the engine compartment. This was followed by the Ford PIU with 9.44 points.
In the ergonomics category, taking into consideration comfort, convenience, instrumentation, and visibility, the Chevrolet Tahoe ranked highest with 8.74 points out of 10, followed by the F-150 Police Responder with 8.44 points.
As for fuel economy, the Mach-E has an estimated 84 MPGe. The PIU Hybrid is projected to deliver 24 MPG combined. Among the traditional gasoline-powered vehicles, the Charger 3.6L AWD and the Durango 3.6L AWD tied at 21 MPG combined.
News / media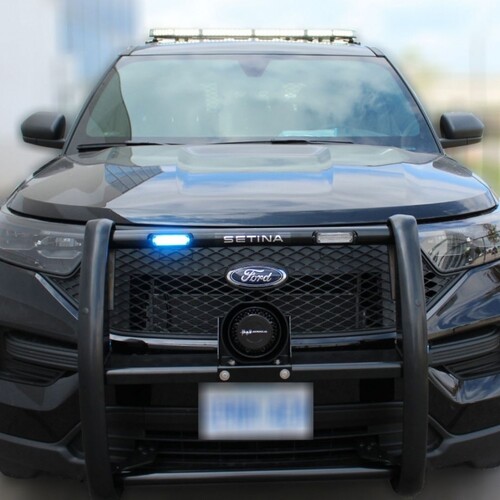 From starting out as a simple electric wagon in 1899 to becoming really fast, armoured, and efficient machines that they are today, police cars have come a long way. Ford, the major automobile manufacturer, is one of the oldest partners of police precincts across North America. But any mention of police cruisers is incomplete without examining the history of the Ford Police Interceptor.
The evolution of this class of police cars will be examined in detail here.
Crown Victoria
The Ford Crown Victoria cars released their police variants in 1992, christened as Ford Crown Victoria Police Interceptor. Although previous versions were used by law enforcement, they never attained the title of police interceptor, but instead were simply called P72. These mean machines came with a Modular V8 engine with a 4.6-litre capacity, and as for transmission, the vehicle employed either Ford AOD/AOD-E or Ford 4R70W, both popular variants of 4-speed automatic transmissions. Successive restyling, including the release of a second-generation vehicle, saw the introduction of the honeycomb grille, optional side-impact airbags, and complete redesigning of the instrument panel. Ford eventually ended Crown Victoria's production in 2011.
Ford Taurus
Innovations in technology led to lighter, faster, and more efficient cars, which were also introduced in law enforcement with Ford Taurus in 2012, renamed as Police Interceptor Sedan. Equipped with a 3.7-litre V-6 engine made from aluminum, the car was considerably lighter than its predecessor. With 305 horsepower and equipped with dual exhaust pipes, the sedan's mileage also saw a significant improvement. The special police fleet version also had a whole host of other features such as a blind spot information system, rearview camera, a sensor system for reversing the vehicle, and more. The sedan version of the police car was finally discontinued in 2019 after a 7-year stint.
Ford Explorer
When the sedan version of the interceptor came to the market, Ford launched the Police Interceptor Utility in parallel, which was the modified version of Ford Explorer. A considerably heavier and armoured version of its sedan counterpart, the SUV initially took its engine specifications from the evergreen Ford Mustang, with a Ti-VCT V6 engine with a capacity of 3.7L. The vehicle also had special provisions and modifications which were accessible only to the police fleet such as steel wheels, column-mounted shifters in the transmission, and enough space to outfit the SUV with important police accessories. To counteract the formidable acceleration of the cruiser, the utility version was also equipped with an advanced ABS system and excellent traction control.
The Final Update
The Police Interceptor Utility vehicle saw a brand new update in the year 2020, with the introduction of the second generation. The major upgrades are in the engine, with the introduction of a twin, turbocharged V6 engine with a 3.0L capacity. The new version also has more cargo space due to a significant change in chassis design. It is evident that police cars are getting faster, stronger, and more efficient with each iteration, improving the safety and performance standards of the police department.
When it comes to design, manufacture and installing perimeter lighting, lightbar, sirens, light and siren control systems, consoles, docking stations, computer mounts, or custom solutions for police fleets and first responders, D & R Electronics emerges as a pioneer. Contact us today for a consultation and learn about our wide range of services.