What is the slowest depreciating car?
These 5-Year-Old Vehicles Retain the Most Value in 2022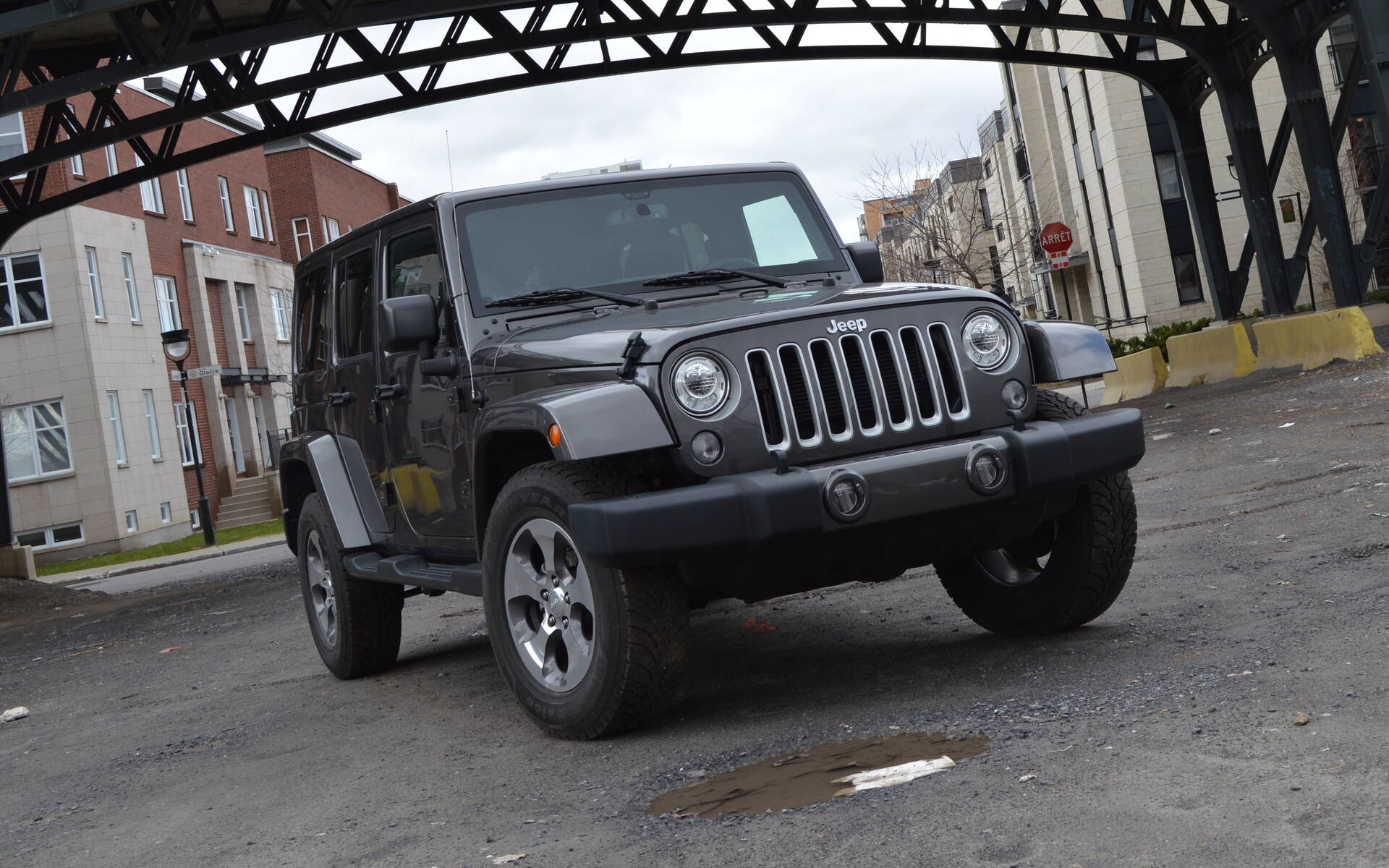 U.S. research firm iSeeCars.com offers an updated look at the used-car market amid rising prices resulting from supply chain and production distruption across the auto industry.
An analysis of vehicle depreciation based on over 3 million transactions reveals that cars retain more value than they have in recent memory and that a small number have even appreciated in value. The average five-year-old vehicle lost only 33.3 percent of its value from MSRP in 2022 compared to 40.1 percent last year and 49.1 percent in 2020.
Also: Certified Pre-Owned Vehicles With the Best Value in 2022
Also: These Vehicles Have the Best Value in Canada for 2022
"The relative scarcity of late-model used cars due to pandemic-related new car production disruptions has kept used car values high for more than a year," said Karl Brauer, Executive Analyst for iSeeCars.
The top 4 is the same as last year, but as you'll see below, small entry-level cars are well represented, too. On the flip side, luxury cars and large luxury SUVs continue to depreciate faster than most vehicles.
Top 10 Vehicles with the Lowest Five-Year Depreciation in 2022:
Jeep Wrangler – 7.3 percent
Jeep Wrangler Unlimited – 8.7 percent
Porsche 911 – 14.6 percent
Toyota Tacoma – 14.9 percent
Honda Civic – 16.3 percent
Subaru BRZ – 18.2 percent
Ford Mustang – 19.4 percent
Toyota Corolla – 19.8 percent
Nissan Versa – 19.9 percent
Chevrolet Camaro – 20.2 percent
Top 10 Vehicles with the Highest Five-Year Depreciation in 2022:
BMW 7 Series – 56.9 percent
Maserati Ghibli – 56.3 percent
Jaguar XF – 54 percent
Infiniti QX80 – 52.6 percent
Cadillac Escalade ESV – 52.3 percent
Mercedes-Benz S-Class – 51.9 percent
Lincoln Navigator – 51.9 percent
Audi A6 – 51.5 percent
Volvo S90 – 51.4 percent
Ford Expedition – 50.7 percent
Now, if we look at depreciation for three-year-old vehicles in 2022, the iSeeCars.com study shows that the average rate is just 16.9 percent. The Porsche 911 (+5.7 percent), Toyota RAV4 Hybrid (+2.5 percent), Jeep Wrangler Unlimited (+2 percent), Porsche 718 Cayman (+1.8 percent) and Jeep Wrangler (+0.3 percent) have actually appreciated over MSRP in this three-year span.
The following list reveals once again that demand for small cars is strong and so is their value.
Top 10 Vehicles with the Lowest Three-Year Depreciation in 2022:
Mercedes-Benz G-Class – 0.6 percent
Honda Civic – 1.4 percent
Subaru Crosstrek – 1.9 percent
Toyota C-HR – 2.5 percent
Porsche 718 Boxster – 2.5 percent
Toyota RAV4 – 2.6 percent
Toyota Corolla Hatchback – 3.4 percent
Kia Rio – 3.5 percent
Chevrolet Camaro – 3.5 percent
Tesla Model 3 – 4.1 percent
Share:
More on the subject
The research and analysis firm Vincentric recently announced their Best Certified Pre-Owned Value in Canada Awards. This is especially relevant in the current market, where used vehicles are subject to a high demand because of delivery and supply problems with new vehicles. Selected after the evaluation of more than 14,000 …
Everyone wants to save money right now—or at least make sure they get the most bang for their buck. Car shoppers are no different, and the 11th annual Vincentric Best Value in Canada Awards announced this week are here to help. Vincentric measures cost-of-ownership using eight different cost factors: depreciation, …
As you may have noticed, pre-owned vehicles have gained a lot of value since brand new ones have become rare due to the pandemic. For those who are looking to sell their old ride, this is great news! If that's your case, you'll still want to make sure you get …
ALG, a division of J.D. Power which specializes in forecasting future vehicle values, recently announced the winners of its 2022 Canadian Residual Value Awards, recognizing the vehicles that are projected to hold the highest percentage of their original MSRP after a four-year period for mass-market models and after a three-year …
The Toyota Tacoma is a solid truck with a reputation for reliability that speaks for itself. However, it hasn't changed for several years and its price remains pretty high in both brand-new and pre-owned condition, because it's historically one of the vehicles that maintain the highest value on the market.
The next-generation Toyota Tacoma is expected to show up sometime in the next few months and launch as a 2024 model. There's been plenty of speculation surrounding the midsize truck over the past couple of years, but new images appear to reveal the exterior design. Discovered by Motor1 , the …
ALG, a division of J.D. Power which specializes in forecasting future vehicle values, today announced the winners of its 2023 Canadian Residual Value Awards, recognizing the vehicles that are projected to hold the highest percentage of their original MSRP after a four-year period for mass-market models and after a three-year …
10 Cars With The Slowest Depreciation And Subaru's New Surprise Value Model
Not all cars lose their value as fast as others. Here are the ten cars with the slowest depreciation from U.S. News. There is a Subaru sports car that is an incredible value. Check out the report here.
Which Subaru model retains its value the best? According to a recent report from U.S. News, these ten vehicles below hold their value better than many others, so you can count on getting more money back when you sell. In addition, the list now includes the 2023 Subaru BRZ sports coupe that offers a surprisingly good value for sports car shoppers.
The ten cars with the slowest depreciation
Chevrolet Camaro: Average Five-Year Depreciation: 20.2%
Nissan Versa: Average Five-Year Depreciation: 19.9%
Toyota Corolla: Average Five-Year Depreciation: 19.8%
Ford Mustang: Average Five-Year Depreciation: 19.4%
Subaru BRZ: Average Five-Year Depreciation: 18.2%
Honda Civic: Average Five-Year Depreciation: 16.3%
Toyota Tacoma: Average Five-Year Depreciation: 14.9%
Porsche 911: Average Five-Year Depreciation: 14.6%
Jeep Wrangler Unlimited: Average Five-Year Depreciation: 8.7%
Jeep Wrangler: Average Five-Year Depreciation: 7.3%
What does it mean for new car shoppers?
If you plan on keeping your new car for 3-5 years, depreciation (loss of value) is typically your primary expense during ownership. It shows shoppers which vehicle will be the best in resale value.
The 2023 model-year vehicles listed above are projected to retain their value through the initial five-year ownership period. It lets consumers know which models keep their value better than others. This can make the most significant difference when you trade in your vehicle after 3-5 years. You'll get more for your trade-in than other automakers' vehicles.
The 2023 Subaru BRZ is one of America's best sports car values.
Sports cars are notoriously known for dropping in value quickly once you drive them off the lot, but not the 2023 Subaru BRZ sports coupe. U.S. News says the BRZ average five-year depreciation is 18.2 percent. So the average new car will lose about 40.1 percent of its value after five years.
U.S. News says, «Subaru released a new BRZ in 2022, finally giving the car the needed power. At the same time, older BRZs are holding value impressively well.»
Visit Torque News homepage for more stories.
«Two-door sports cars with a manual transmission and rear-wheel drive are few and far between these days, but the BRZ offers this enthusiast formula. Its flat-four engine delivers decent acceleration and has enough power to break traction in the rear, but older car variants lack the fizz that the 2023 model brings.»
«The BRZ offers four seats, though the back is best left for kids. Front-seat passengers enjoy good space and supportive buckets, and the car offers good outward visibility. Subaru's infotainment software isn't the best, but it runs smoothly on the standard 8-inch touch screen,» says U.S. News.
What is the price of the 2023 Subaru BRZ?
The 2023 Subaru BRZ comes in two trim levels with two transmission options. The BRZ Premium with a 6-speed manual gearbox has a starting price of $29,615. BRZ Premium with an automatic transmission starts at $33,115. The Limited (6-speed manual) has a starting MSRP of $32,115. The Limited with an automatic transmission starts at $33,255. All pricing includes destination and delivery fees.
Other Subaru models with the slowest depreciation
According to Kelley Blue Book's (KBB) 2023 Best Resale Value Awards, Subaru earned three individual segment honors.
Subaru's three new segment winners in 2023 are Subaru of America's top-three-selling SUVs. In addition, the 2023 Subaru Crosstrek scores the best Subcompact SUV, the 2023 Subaru Forester wins the Compact SUV segment, and the 2023 Subaru Outback takes home the best Midsize 2-Row SUV award. The three Subaru SUVs also won the best resale value awards last year.
New vehicle shoppers looking for a sports car will find the 2023 Subaru BRZ offers the best value. The rear-drive sports coupe is fun to drive and retains its value better than other sports cars.
Denis Flierl has invested over 30 years in the automotive industry in a consulting role working with every major car brand. He is an accredited member of the Rocky Mountain Automotive Press. Check out Subaru Report, where he covers all of the Japanese automaker's models. More stories can be found on the Torque News Subaru page. Follow Denis on Facebook, Twitter, and Instagram.
Subaru Report — We've got you covered! Check back tomorrow for more unique, informative SUBARU news, reviews, and previews you can trust.
Leave your comments below, share the article with friends, and tweet it out to your followers!
Photo credit: Subaru USA
Cars that hold their value in 2023

Are you in the market for a car that will hold its value in the long run?
Depreciation is one of the largest costs associated with owning a vehicle — and finding a car that will retain its value is key to getting the most out of your purchase.
If you want to sell your car and make the switch to a newer, more dependable vehicle, but are unsure which model will deliver value in the longer term, read on.
We've put together a list of 10 cars that offer strong value retention in 2023. If you're looking for a reliable, well-made car that will protect your investment, all these models are worthy of your consideration.
However, before we get into our list of 10, let's take a look some of the key reasons why some cars hold their value better than others.
Value your car in under 30 seconds
Why do cars hold their value?
Resale value is an important consideration for anyone looking to buy a new or used vehicle. So, why do some cars hold their value and beat depreciation?
There are numerous factors that can influence a car's resale value. These include:
Brand recognition
Technology
Fuel efficiency
Condition
Slow-depreciating car brands
It's no secret that depreciation is one of the greatest expenses of car ownership. However, not all cars depreciate at the same rate.
Cars from certain manufacturers are renowned for having slower rates of depreciation. This may be due to factors such as the brand's prestige, reputation for reliability or high build quality. We've collated a list of car manufacturers that have solidified their reputation for strong value retention:
Land Rover
Toyota
Porsche
Volkswagen
Range Rover
Lotus
Lexus
MG
Mitsubishi
Jaguar
If depreciation sits high on your priority list, you should give serious consideration to the brands highlighted above.
However, bear in mind that this list only relates to brands' overall reputation for value retention; depreciation rates can vary significantly throughout a brand's range of models. Therefore, in order to get the full picture, it is also important to pay attention to the depreciation rate for the specific model you are considering.
10 slow-depreciating car models
With many cars losing their value quickly, it can be difficult to find models that retain their worth. To help make choosing a car easier, here's a list of 10 slow-depreciating car models based on the average value retained after three years:
Land Rover Defender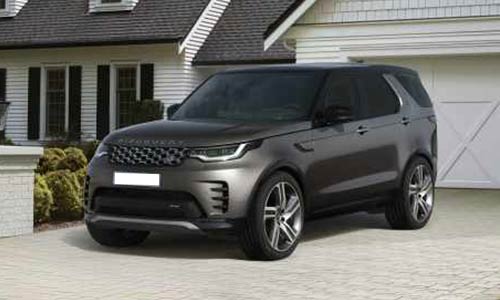 Retained value: 74.97%
Average retained value: £56,710
The Land Rover Defender has been a fan-favourite since its first appearance in 1948. After years of anticipation, the latest iteration of the Defender was finally unveiled in 2020. The manufacturer's skills are showcased throughout the car — and it doesn't neglect all the hardcore off-road attributes that have made it so popular over the decades.
The new Defender incorporates modern luxury SUV features into its classic design. Its style, power, versatility and practicality make the Defender a highly sought-after car. In fact, the sheer demand for this model has helped to make it one of the slowest-depreciating new cars available on the UK market.
The Defender is not only an attractive investment, but a reliable and luxurious family vehicle that should serve you well for years to come.
Porsche Macan
Retained value: 70.49%
Average retained value: £42,352
The Porsche Macan is a small SUV that has certainly been making waves in the automotive world. Its stylish yet practical design has ensured its popularity among luxury car enthusiasts.
The Macan is a compact SUV that offers ample room for four adults and a decent-sized boot. So, it's safe to say it ticks all the boxes when it comes to family-friendly motoring.
Underneath the hood, you'll find a 2-litre turbo petrol engine, which provides plenty of power and favourable fuel economy. Therefore, you won't be breaking the bank just to keep your car running! The Macan offers a good level and luxury and performance – all at a surprisingly affordable price tag. It's also reliable – and a great choice for anyone seeking a long-lasting vehicle.
Of course, the Macan holds its value very well over time, making it an excellent long-term investment, particularly if your budget can't quite stretch to purchasing one outright.
Volkswagen ID. Buzz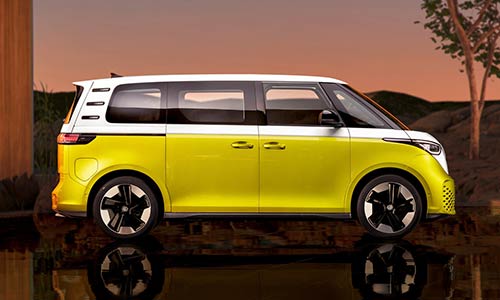 Retained value: 70.11%
Average retained value: £41,712
The Volkswagen ID. Buzz is a cool MPV that is the spiritual successor to the iconic VW Type 2 bus of the 1950s.
If you're looking for a reliable, yet stylish minivan for adventuring – and want to make your money go that little bit further, the ID. Buzz minivan could be a smart investment.
The impressive electric range (around 205 miles on a full charge) and efficiency is arguably the ID. Buzz's biggest selling point. Its robust construction and stylish design ensure that you can travel with confidence. The benefits don't end there, either. The ID. Buzz is packed with plenty of on-board tech and advanced safety features for a smooth, hassle-free ride.
Range Rover Evoque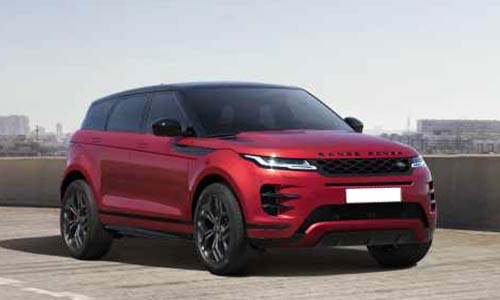 Retained value: 69.83%
Average retained value: £32,912
The Range Rover Evoque is an upmarket, British-built SUV that has been described as one of the slowest-depreciating car models in 2023.
The R-Dynamic trim levels offer even more luxury than the standard Evoque models. However, whichever version you opt for, you'll be investing in a car that's stylish, desirable – and most importantly, strong on value retention.
Performance-wise, the Range Rover Evoque fares well, thanks to its strong 4-wheel drive system, which provides plenty of power, along with excellent handling. Its impressive fuel efficiency and emissions make this SUV the perfect choice for those seeking an economical, yet reliable ride.
What's more, the interior design is suitably modern and luxurious — with plenty of space for passengers and cargo alike.
Porsche Cayenne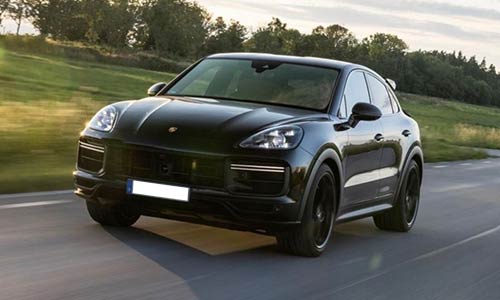 Retained value: 69.57%
Average retained value: £59,429
Porsche is well known in the luxury SUV arena, thanks to popular models such as the Cayenne. With a reputation for reliability and longevity, the Cayenne is also known as one of the slowest-depreciating SUVs money can buy.
Despite having some of the highest-priced options in its class, owners can relax in the knowledge that their Cayenne will retain its value over time. This isn't just true for the premium V8 models; there isn't much difference in terms of depreciation among the more mainstream six-cylinder offerings, either.
Furthermore, with the recently introduced plug-in electric variant scoring high on both efficiency and resale value, it's no surprise that this luxury SUV continues to be a popular choice among drivers worldwide.
Porsche Taycan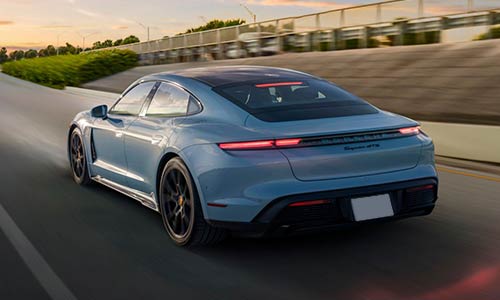 Retained value: 69.35%
Average retained value: £69,817
The Porsche Taycan is an all-electric car that has been touted as one of the most desirable fully-electric cars on the market. The standard coupe version of this vehicle is in high demand — and with good reason; it is one of the slowest-depreciating cars available today.
The Taycan has proved to be a smart choice for those seeking a solid long-term investment that will hold its value over time.
As you would expect from any Porsche, the Taycan has been engineered with luxury materials that are lightweight and durable, ensuring maximum driving efficiency. The Taycan's eye-catching design and impressive performance make it worth a second look for anyone seeking a fun, sporty SUV.
Furthermore, the state-of-the-art all-wheel-drive system provides excellent traction, meaning it can tackle any terrain with ease.
Lotus Emira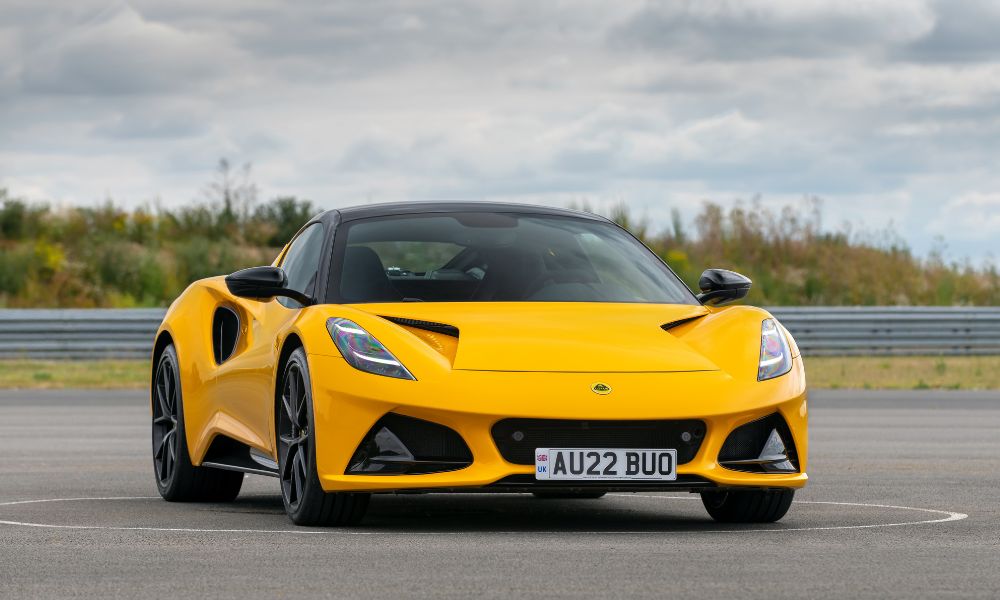 Retained value: 67.57%
Average retained value: £52,700
The Lotus Emira marks a bold new era of electrification for this British sports car brand. Since its inception, the Lotus Emira has been well received by consumers due to its slow rate of depreciation and high-performance features.
The exterior design is sleek, with smooth lines, a long hood and wide roofline, giving it an aggressive yet sophisticated look. Inside, drivers can enjoy premium touches such as leather upholstery, carbon fibre detailing — and a multimedia system that allows for easy access to navigation services and connectivity.
The Lotus Emira offers a great range of features that cater to all types of drivers. It can reach 0–60 mph in just 3.9 seconds, whilst also offering an impressive fuel economy rating of 49–50 miles per gallon. There are also many excellent safety features, such as adaptive cruise control, rear cross-traffic alert — and rain-sensing wipers.
Porsche 911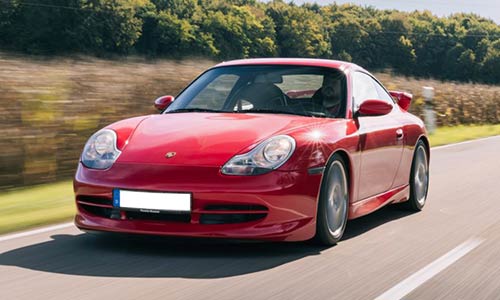 Retained value: 67.56%
Average retained value: £88,042
The Porsche 911 has a long-standing reputation for performance, reliability and quality construction, making it an ideal choice for buyers looking for a sporty ride that holds it value. With a wide range of styles on offer, there's something to suit everyone – from coupe variants to convertible versions — and even a turbocharged version with uprated power.
The 911's bold design, performance and kerb appeal have all helped to make it one of the slowest-depreciating supercars on the market.
Porsche's signature flat-six engine has been refined over the decades, resulting in excellent fuel efficiency without compromising on power delivery or driving dynamics. None of this comes at the cost of reliability; stay on top of the servicing schedule and it shouldn't be too expensive to maintain, either.
MG4 EV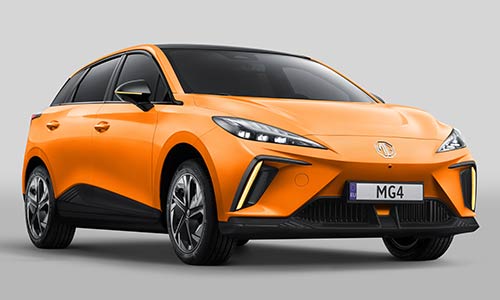 Retained value: 66.49%
Average retained value: £19,050
The new MG4 EV is a well-built, roomy car that offers an advanced electric range for budget-minded drivers. In recent years, MG has been reborn as a Chinese-owned brand with a focus on producing efficient, cost-effective electric cars. The MG4 EV comes at a surprisingly affordable price point (starting from just £25,940).
MG offers a generous 281-mile range with the larger-battery versions of the MG4. With its low price tag and long battery life, you can expect minimal depreciation over time, providing more bang for your buck.
Drivers can appreciate the sleek design of this vehicle, which also offers a roomy interior that can comfortably accommodate five adults. The exterior includes sleek lines and bold colours that are sure to catch the eye of any onlooker. This makes for a stylish yet practical ride for those who enjoy driving around town or taking long motorway trips with friends and family.