When should I buy a car in 2022?
Should you buy a new car in 2023?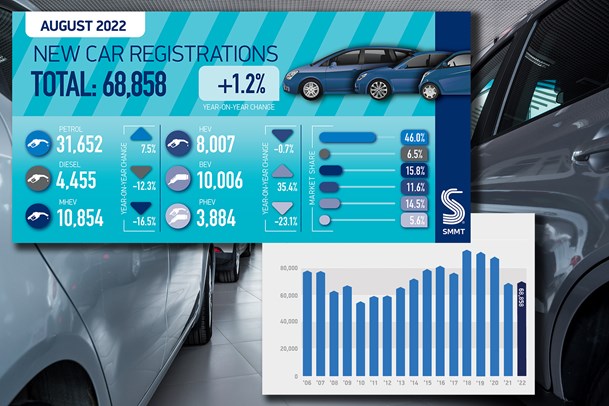 There's a lot of pressure to go for an electric car at the moment, despite energy prices. Many drivers have held off purchases during the pandemic as well, only to be met with lack of stock and long delays for new models. On top of that, list prices are rising, the cost of finance is increasing, and discounts are disappearing.
For many people a car remains the second most expensive thing they own (or use) after their home, yet most finance and lease packages encourage frequent replacement. When cars up to 20 years old can still look good, and be reliable, do you really need to change?
For most of the 21st century, buying a new car has been a simple case of economics; if you can get the best finance deals it's often cheaper to run a new car until the warranty expires, then replace it with a similar deal, than it is to run and maintain a secondhand one for the same period. It's also often cheaper than train season tickets and other alternatives.
Since the impact of Covid, Brexit and the push towards net zero emissions, that's no longer the case. But why? We're eight years away from a ban on new petrol & diesel models, surely showrooms should be stacking high and selling cheap?
New car prices – on the rise
Before looking at anything else, it's worth remembering that the UK's exchange rate and economic situation is an almost unseen aspect of car prices.
You may have noticed your iPhone 14 is yet more expensive – again, that is as much down to the strength of the dollar as it is manufacturing costs. These pressures are all combining to create inflation, and a corresponding increase in interest rates to counter that. It almost doesn't matter why – the end result is economic uncertainty and wages not going as far as they should.
That's reflected in car prices, as shown below.
Ford Fiesta ST Line 1.0 100hp
Nissan Qashqai Visia DIG-T 140
Volkswagen Golf Life 110hp
New car registrations – up to 35% lower than pre-pandemic levels
Although there is some good news, in that August 2022's sales figures show a 1.2% increase year-on-year, it's still lower than previous results and fleet sales (the big driver of used car availability) are 24% lower. Used car sales reflect that lack of supply, with around 100,000 fewer transactions across the UK per month.
It's not that the demand isn't there, but the cars to meet that demand aren't available.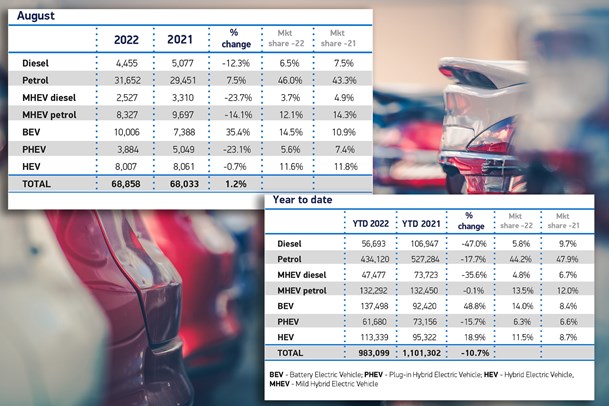 New car manufacturing: demand, meet supply.
UK factories made 550,000 fewer cars in 2022 than in 2019 (and almost 1 million fewer than pre-Brexit levels in 2017), and firms aren't going overboard on producing old designs for stock. It's why your new car now has a long wait for delivery. Before Covid took hold in Spring of 2020, manufacturers generally worked on a seven-year product-lifecycle to recover investment, shift marketing towards electric vehicles, and amortise the investment made in developing new models.
Electric cars are part of a longer cycle, typically around 14 years, which reflects the platform of the car rather than the bodywork.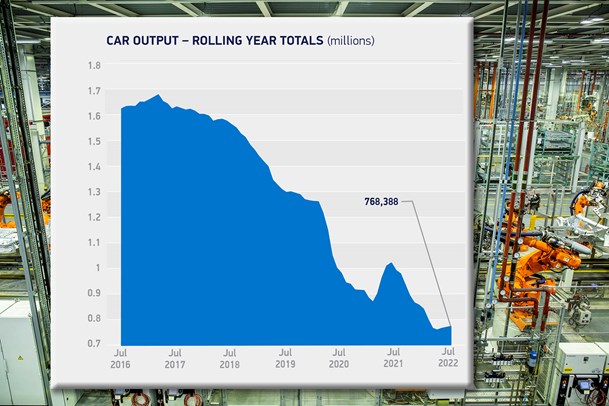 You might remember a lot of stories of new platforms a couple of years before 2020; this was the last generation of combustion-engine models and the start of electrification for many firms. A platform might last for two or three product lifecycles; the billions invested developing the core of the car being spread out over 14 to 20 years.
You could still get great cars for less than £200/month at the start of 2020, but we all remember the empty showrooms and restrictions that summer, and the ensuing component shortages that have affected every industry as global, just-in-time supply chains floundered. Those billions invested? Manufacturers lost hundreds of thousands of sales, globally. It's no wonder the cars they do sell have to be more expensive.
Used cars since 2020 – sales shutdown and MoT extensions
The biggest impact for buyers and dealers in 2020 was a hold on used car sales and restocking. Normally March and September's new registration dates would bring an influx of two- to four-year old popular cars into the showrooms and auctions, as leases end. Those cars didn't materialise, because no new cars were sold to replace them and the dealers were shut anyway; what was offered could only be bought by key workers, officially.
We're two years on and that replacement cycle for company fleets and PCP sales still hasn't stabilised – which is another factor affecting the price of new cars; without cars to sell there's no point chasing volume orders, and without volume orders the economies of scale are reduced.
There's no incentive to discount because manufacturers can't make enough to catch up with demand, and stopped making the models and trims to fulfil supplier contracts. As a result the cost of the car itself has to go up, simply to make up for the lost return on the investment of making it, all planned out long before a pandemic.
It's not just the nearly-new, approved-used market that was affected. MoT extensions and long periods of disuse lead to plenty of coverage suggesting that cheap, older cars for sale would be in line for big bills and MoT failures. In fact, the failure rate for cars tested between March 2020 and March 2021 is lower than previous years, with just over 30 million cars tested and an initial failure rate of 30.2%, compared to 2019's 33.4%. That's reflected in the government statistics which reveal an overall downward trend in MoT failures over the past decade.
Even so, with all this pressures and the need for affordable transport still a part of everyday life, economical, low-tax family cars have gone up in value accordingly; luxury, high-emissions and sports cars have not fared as well. Check the gallery for more graphs illustrating manufacturing and registrations over the past two years, and it's clear just how significant the damage to the industry has been.
When should I buy a new car in the UK?
Looking at the data, and assuming no more unexpected disasters, September 2023 or later.
At present production is slowly returning to normal levels, but with squeezed incomes and increased costs coming from all angles, the best thing to do is wait unless you absolutely must buy a new car now. When your car's lease is ended, if you can we would recommend buying a cheap used car to get you through a few months until 2023 and allow the economy to settle – or better yet, if you have eight weeks or more to go, see if you can extend the lease. If you have a PCP ending at the moment, get some quotes to sell your car and compare them with the settlement figure – you might be pleasantly surprised.
Should you buy a new car, now?
Everyone's circumstances are different, but we think you should wait until September 2023 at least. If you have a PCP ending now, rather than going straight into a new deal it may be worthwhile seeing what the trade will pay over the final payment, and picking up a cheap secondhand car to cover a few months until the economy settles down. There's a lot of pressure within the trade to get the number of transactions, finance packages and customers back up to 2019 levels.
We'd be particularly cautious around electric cars unless you are offered one as part of a company fleet. Prices are very strong, finance deals are not competitive, and the running costs of an EV, if you use public charging, can be comparable to a 40mpg petrol car. Previously the highly monthly payments could be offset by cheaper running costs, and that advantage is disappearing.
If you do want an electric car right now, we'd recommend buying cutting edge, long-range models such as the Kia EV6, Tesla Model 3 or larger-battery MG 4 over the cheapest or most premium models. These will have the widest appeal and strongest resale, they're also the most satisfying to live with.
The used-car timebomb – no new sales, no used stock
Looking at the registration data from 2020-2021, there's an immediate problem; the number of cars sold is a fraction of the usual turnover. Drivers planning a change of used car have already faced prices almost doubling for popular, clever options such as the Skoda Yeti (once less than £3,000, now closer to £6,000 for good examples), or BMW i3s (£11-13,000 at seven years old in 2019, now £16-18,000 for a comparable age). It's another thing entirely not having any cars to sell; with 35% fewer new cars and drivers potentially keeping them for longer, there are at least 35% fewer three-year old ones in the future.
The squeeze on supply is exacerbated by the demand for lower fuel consumption, electric, or hybrid models, and the need for older diesels to be replaced for residents of ULEZ areas. Don't expect used bargains if you travel to London though. Those 'unwanted', short-distance urban commuters' cars are already on the radar for dealers across the North of England, Scotland and Wales, where ULEZ zones are yet to be a significant factor and the economy of a pre-2015 diesel is very attractive.
What all this means for you when weighing up if you need to change your car is, 'it's time to pay attention to maintenance'. Garages already have long waiting lists, but it's worth getting booked in to a trusted specialist with good reviews and word of mouth recommendations, to keep your car working longer.
Properly maintained diesels (emissions systems in particular), with regular oil changes, will save money overall. The effort will pay off in the long run. Used values for sensible, practical family cars with low VED rates and good economy are going to remain strong, particularly if inflation also remains high.
If you do need to change your used car now, look to the unusual, or weigh up the total costs when running a larger engine or higher emissions car. It might be almost £60/month in road tax, but you could pick something up for thousands less as buyers stay away. The rest of the costs are down to your right foot, after all.
Will things return to normal for car sales in the UK?
A spokesperson for car valuation and market analyst, Cap HPI said: 'What comes next is going to be particularly interesting and is dependent on new car supply, and especially how much gets diverted into the fleet market. Currently that still seems a little unknown, with different brands showing different levels of confidence around supply – some at 70% of "normal", others not quite so bullish. There are also quite different situations regarding availability of models within those brands.'
For the used car and new sales trade to return to the way things were in 2019, by 2026 we'll need familiar discounts and deals, cheap finance (relatively) and used stock. But with changes in how people live and work, a move towards subscriptions, and the still tiny number of secondhand electric cars and supporting infrastructure, this is going to be a very difficult decade for car users and the trade alike.
Alongside economic pressures for typical working families and the rising costs of energy, the pound has been hammered relative to the dollar and other currencies, which will affect spares costs and servicing. The UK's RHD market pales against the scope and demand for Europe, and manufacturers are unlikely to overcommit to production as before, meaning less pressure for discounting and cash incentives.
Higher interest rates on finance packages will also benefit the manufacturer through their financial services, meaning more cash per car sold anyway, even if the list price doesn't go up that much. Ultimately these firms make cars to make money, after all.
It seems more likely that instead of things returning to the way things were, we're going to establish a new normal, keeping cars for longer, paying more for them, and seeking out the best value and longevity. Something Toyota is already ahead of, with up to 10 years of warranty cover.
Is it Worth Buying a Gas Car in 2022
This article will cover what the advantages and disadvantages are of a gas-powered vehicle. Furthermore, it will outline whether it is even worth buying a car in this day and age.
What You Need to Know About Purchasing a Gas Car Today
2022 will be a year known for its inflation, low supply of goods, and overall dismay throughout the United States. One area that is a cause for concern for many Americans is the rising price of gas. This has caused many people to begin to look for ways to save money on gas by looking into rewards apps for a specific gas company or an app like Gas Buddy for details about the cheapest gas around you. There is even talk of banning gas or diesel vehicles by the year of 2035. These recent actions have brought up the question of whether it is even worth it to purchase a gas car in the current year. There are many advantages to purchasing a gas car and disadvantages as well.
Advantages of a Gas Car
The advantages of buying a gas car vary for many different reasons. One of the more advantageous factors a gas powered car has over an electric car would be the power behind a gas vehicle. Gas vehicles also typically have a lower price tag so more people are able to purchase these vehicles. Furthermore, gas powered vehicles are much easier to work on mechanically, so you can usually take it to any car shop for routine service. Battery operated vehicles are much more delicate, and require specialized maintenance by specific mechanics.
A major advantage of gas vehicles compared to battery powered is that there are a lot more options available to choose from. Gas powered vehicles also have a larger mile range as battery powered cars are typically maxed out at around 300 miles per charge, and can usually reach a higher max speed as well. If you are interested in hauling a trailer or something behind you, a gas powered vehicle will make it much more possible compared to a battery operated vehicle. Finally, gas powered vehicles are backed by major companies that have decades of experience to build a positive reputation, while battery powered vehicles do not have this reputation just yet.
Disadvantages of a Gas Car
Quite possibly the most obvious disadvantage of a gas powered vehicle would be the continued rising cost of gas. There really is no end in sight as to when gas will continue to stay this high, so the monthly gas bill to run your car will continue to stay high. If you are a commuter of long distances, you will consistently be paying a lot in gas every month. Furthermore, there is the thought that many people have of the issues gas powered cars have on the climate. The emissions released from gas powered vehicles have done a number on the climate for the past hundred years, and will continue to get worse if people continue to rely on gas powered vehicles. In addition to the emissions, the oils and fluids leaking from the vehicle are detrimental to the environment as well.
One disadvantage compared to battery powered vehicles is a recent change, you actually can't fill up your vehicle at home the same way you are able to with a battery powered vehicle, although it only takes a few minutes to fill up at the gas station. Finally, the gas powered vehicles requires the dependency of fossil fuels, which are of course a non-renewable resource, so once they are gone from the world, it will take millions of years to replace.
Conclusion
Overall, gas powered vehicles in 2022 still offer many advantages and disadvantages. While there is a bigger push for battery powered vehicles, many people agree that as of today, they would still lean towards the side of a gas powered vehicle just based on the price of battery operated vehicles. Gas powered vehicles are backed by years of a positive reputation, offer more options for the gas powered vehicles, offer more power, and have the luxury of being operated on by any mechanic in any garage. It will require a few more years of working on and producing battery powered vehicles to overtake the gas powered vehicles, but that day will come within a few short years.
No matter the type of fuel your vehicle runs on… SAC Transport is here to facilitate all of your auto transport needs. Give us a call at (866) 821-4555 to find out how much it would cost to ship your ev and/or gas car.
Supply Problems Hurt Auto Sales in 2022. Now Demand Is Weakening.
A global semiconductor shortage is easing, which could allow carmakers to lift production this year. But higher interest rates could keep sales low.
Send any friend a story As a subscriber, you have 10 gift articles to give each month. Anyone can read what you share.
Give this article
Jan. 4, 2023
Last year, sales of new cars and trucks fell to their lowest level in a decade because automakers could not make enough vehicles for consumers to buy. This year, sales are likely to remain soft, but for an entirely different reason — weakening demand.
The Federal Reserve's interest rate increases, which are intended to slow inflation, have made it harder and more expensive for consumers to finance automobile purchases, after prices had already risen to record highs.
Analysts expect that higher rates and a slowing economy will force some U.S. shoppers to delay car purchases or steer away from showrooms altogether in 2023 even if automakers crank out more vehicles than they did last year because they can get more parts.
"For over a decade, low interest rates have helped people buy the big cars that Americans like," said Jessica Caldwell, executive director of insights at Edmunds, a market research firm. "Low rates from the Fed are what made those attractive offers for zero-percent financing and 72-month loans possible, but with the higher rates, it's a pretty unfriendly market for people buying a car."
Edmunds estimates that automakers will sell 14.8 million cars and trucks in the United States this year, which would be well below the sales that automakers became accustomed to in the previous decade.
Analysts expect the industry will have sold fewer than 14 million light trucks and cars last year in the United States once large automakers have reported their deliveries for the year. That would be a decline of more than one million from 2021. Before the coronavirus pandemic, the industry typically sold more than 17 million new vehicles a year.
If the dour estimates are confirmed, last year's sales total will rank as the lowest since 2011, when the industry had only just begun recovering from the financial crisis and sold 12.7 million new cars and trucks.
"It seems likely that rising interest rates are now constraining demand in the retail auto market," Charles Chesbrough, senior economist at the market researcher Cox Automotive, said in a statement. "With record-high prices and elevated loan rates, the pool of potential new-vehicle buyers is shrinking."
Stellantis, the company formed through the merger of Fiat Chrysler and Peugeot, said its U.S. sales fell 13 percent in 2022. Honda reported a drop of by 33 percent, and Nissan's sales fell 25 percent. A main reason was the continuing shortage of computer chips, which forced manufacturers to slow or halt production at times over the last two years and left dealers with few vehicles to sell.
Toyota Motor, the world's largest automaker by number of vehicles sold, said on Wednesday that its U.S. sales fell about 10 percent, to 2.1 million vehicles in 2022. But in an indication that the supply of chips and other parts improved toward the end of the year, the company said sales in the fourth quarter jumped 13 percent from a year earlier.
General Motors was one of the few automakers that bucked the industry trend, reporting a 2.5 percent increase in U.S. sales last year, to 2.3 million vehicles, putting it just ahead of Toyota after G.M. fell to second place for the first time in decades in 2021. G.M. said deliveries in the fourth quarter were up 41 percent.
Sales of G.M.'s electric car, the Chevrolet Bolt, rose more than 50 percent to 38,120 for the year. The company also said sales of the GMC Hummer, an electric pickup truck that sells for more than $100,000, increased to 854. The company, which has said it aims to do away with internal combustion engine vehicles by 2035, is counting on several new electric models to increase sales this year.
Another company that did relatively well was Hyundai, the South Korean automaker that sells cars under the Hyundai and Kia brands and that has also made a big push into electric vehicles. It's full-year sales fell just 2 percent, and its fourth-quarter deliveries jumped 29 percent.
Sales were strong for electric vehicles and for companies that specialize in that fast-growing business.
Tesla on Monday reported a 40 percent increase in its global sales for 2022, but its deliveries in the last three months of the year fell short of analysts' expectations. The company's stock, which ended down 65 percent last year, fell 12 percent on Tuesday. It rose 5 percent on Wednesday by the close of trading.
And Rivian, a smaller electric vehicle company, said on Tuesday that it fell several hundred vehicles short of its goal of producing 25,000 trucks, sport utility vehicles and vans in 2022.
Ford Motor is expected to report its sales on Thursday.
Automakers have been hampered by forces beyond their control for much of the past three years. The pandemic forced them to idle factories for two months in 2020. Then, starting in early 2021, they had to limit production because of the chip shortage.
The shortage has eased, and dealer inventories have improved but remain below normal levels. G.M. said its dealers had 410,000 cars in stock, about half the number before the pandemic.
Many automakers are also struggling to acquire enough batteries for their electric cars and trucks. Some people have been waiting months to buy certain models, like Ford's F-150 Lightning and G.M.'s Hummer pickup trucks.
Many consumers who want to buy new vehicles are also staying away from showrooms because the chip shortage has pushed prices higher. The Fed interest rate increases have also effectively made cars more expensive because many people must borrow money to buy a new vehicle.
According to Edmunds, U.S. consumers on average paid $47,681 for new vehicles in November, the most recent month for which data is available. That was a record high and up from $45,872 in November 2021. And the average monthly payment on car loans rose in the fourth quarter to $717 from $659, Ms. Caldwell said.