Which Nissan is Godzilla?
Why the Nissan GT-R Was Nicknamed Godzilla
The Nissan GT-R was a legendary race car. It destroyed so much competition that it was nicknamed Godzilla.
Written by Alex Reale
Reviewed by Kathleen Flear
Updated on Jun 01, 2022 published date: Mar 16, 2022
Table of Contents
Early generations
A monster awakens
Godzilla endures
The first Godzilla movie came out in 1954, and the sight of the King of the Monsters destroying what is very clearly a diorama reminds us
how far technology has come
in nearly 70 years.
Our monsters have since improved on their believability, but Godzilla has maintained his legendary status in our collective imagination. If you described your 3-year-old nephew as the Godzilla of preschool, we'd know that Lego towers were being smashed, and crayons cracked in half.
But destruction doesn't always have to be negative. Read on to learn about the
Nissan
GT-R, which earned its Godzilla nickname by smashing the competition.
Early generations
Nissan introduced the world to the GT-R at the 1968 Tokyo Motor Show, reports
Motor Authority
, in a thorough history of the car. This first generation GT-R was slow by today's standards, but its S20 dual-overhead cam 2.0 L inline six-cylinder engine and top speed of 124 mph were enough to win the JAF Grand Prix. The GT-R was off to a blazing start.
The second generation GT-R debuted, and made its exit, in 1973. These five-speed coupes were highly anticipated, but changing emissions standards made generation two quite short-lived, and only about 200 were produced between January and April. The GT-R franchise then went into a long hibernation, and in 1989 woke up to present the third generation, the R32 GT-R.
A monster awakens
MORE:
The Nissan Skyline Is Coming Back to America—but It's Not a Car
Generation three, it turned out, would be the one to rear its dino head. A 2.6 L turbocharged inline six-cylinder took the quarter mile time of the first generation down by three seconds, and increased horsepower from 160 to 276.
And it won a lot of races.
Nissan
notes that the R32 race car won every single Japanese Touring Car Championship from 1990 to 1993. This string of victories, along with big wins across Europe and Australia, prompted one Australian magazine to call this speedy Nissan "Godzilla" in a cover story.
All this success made another Godzilla into a legend, one that endures to this day. 2 Fast 2 Furious prominently featured an R34 GT-R, and Gran Turismo's licensed reproduction of the GT-R lets any gamer whip around corners with dazzling speed. Nissan's monster became a king.
Godzilla endures
MORE:
Top 3 Bike Racks for Nissan Rogue
After a massively successful run elsewhere in the world, the U.S. finally got access to the GT-R. In 2008, the R35 made its debut on this side of the Pacific, starting at around $78,000, reports Motor Authority. Upped to 480 hp by a twin-turbocharged 3.8 L V6 engine, the GT-R was ready to take the U.S. by storm.
The 2021 Nissan GT-R whips up a stunning 600 hp on a 3.8 L 24-valve twin-turbocharged V6. The engines are hand-built by five expert craftsmen, and professional drivers test them on world-renowned tracks like the Nürburgring. It's beautiful, sleek, and can go 205 mph. Godzilla's great-great-grandson is a monster all its own.
Need to cut car insurance costs for your GT-R? Keep the coverage and find the savings with
Jerry
Compare Car Insurance Quotes For Free
Jerry automatically shops for your insurance before every renewal. Members save $872/year.
Rating on App Store
12,000+ Reviews
Trusted by 3.5M car owners like you
You might also be interested
Ford's New Fire-Related Recall Seems Serious
You're Going to Love the Finishes on This Special Edition Toyota Highlander
What Happened to the Original Eleanor Mustang from 'Gone in 60 Seconds'?
Refresh Articles
Alex Reale · Expert Insurance Writer
Alex Reale is an insurance writer who specializes in automotive news, EVs, and car insurance. Alex's mission is to ensure car owners are informed on all the latest automotive trends so they can make the most affordable and efficient choices when it comes to car ownership. Alex has authored nearly 250 articles for Jerry on topics ranging from amphibious vehicles to EV recalls. Before joining Jerry, Alex flexed her linguistic skills as a project manager and translator with TransPerfect.
Editorial Note: This article was written by a paid member of Jerry's editorial team. Statements in this article represent the author's personal opinions and do not constitute advice or recommendations. You should consult with an insurance professional about your specific circumstances and needs before making any insurance decisions.
How Godzilla got his name: The history of the Nissan GT-R
It's one of the most revered and coveted names in performance car history, but how did the Nissan GT-R get its nickname?
Nissan's GT-R is one of the most iconic performance cars of all time, beloved by tuners, racing drivers and auto fans alike.
The flagship of Japanese performance, the GT-R was until very recently as rare as it was remarkable, having never been manufactured outside Japan and with Hong Kong, Australia, New Zealand and later the UK its sole export markets until 2007.
Despite this, it's become a legendary fixture in pop culture thanks to its planet-cracking performance and appearance in video game series' like Gran Turismo and manga like Initial D. Having made cameos in no less than six of The Fast and the Furious films, and it was even illegal in the United States until 2008, allegedly because it was just too damn fast for police to catch…
Whether or not that's exactly true doesn't matter, because the GT-R and the Skyline family which directly preceded it are as legendary as the titular kaiju which lends the car its nickname: Godzilla. The Nissan GT-R is as much myth as machine and Japan's premier pavement-shredder has eked out a name for itself for the past six decades as the last word in hardcore performance.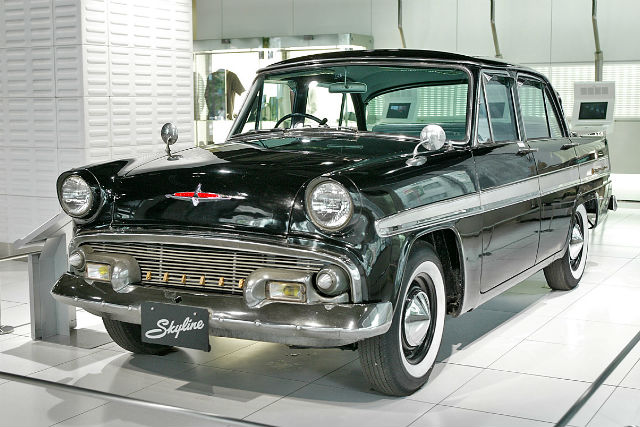 Humble post-war beginnings
The GT-R can trace its lineage all the way back to 1957 in a Tokyo ward called Suginami. Post-WWII, the Tachikawa Aircraft Company, which had manufactured fighter planes for the Imperial Japanese Army Air Force, was dissolved and renamed Fuji Precision Industries.
After diversifying into the automotive industry, Fuji produced cars throughout the 1940s including the all-electric Tama, before undergoing several name changes and finally settling on Prince Motor Company. Named to honour Prince Akihito, now the Emperor of Japan, Prince would officially unveil the first Skyline model in 1957.
Despite the fact that the Skyline name is now best known in relation to performance cars, the original Skyline was built as a luxury saloon, although the first sporting version, the Skyline Sport, was introduced later in the year albeit with much more modest production numbers.
It was in the early 60s that the Skyline would first come to be associated with iconic movie monster Godzilla, after appearing in several of the Toho/Fuji Media films throughout the first few decades of the years. Although the Skyline was being stomped on instead of doing the stomping, that would all soon change in 1964 when Prince decided it was time to put a Skyline on a track.
Using the earlier Skyline as a base, Prince added on some major performance mods which included the addition of a 125 horsepower straight-six motor. An instant success in GT racing, the newly-titled Skyline 2000 GT was soon after put into full production in the Japanese market.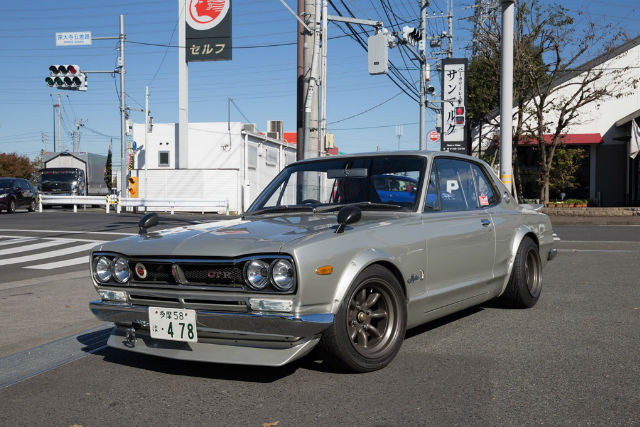 Following Japan's attempt to rebuild its economy in the wake of the Second World War, the government decided to consolidate ten of its most successful automotive manufacturers into three umbrella companies in order to strengthen its car industry.
The idea was to eliminate competition in the Japanese domestic market, and in 1966 Prince was incorporated under the Nissan-Datsun brand, cementing the future for the Skyline and setting the table for what would become one of the world's most-coveted performance vehicles.
Three years later and the first true high-performance version of the Skyline debuted at the Tokyo Auto Show: the Nissan Skyline 2000 GT-R. Powered by a detuned version of the same 2.0-litre inline-six engine from the R380 race car with an output of 160 horsepower, the first real GT-R was originally offered as a four-door saloon before the two-door coupe was introduced in 1971.
Like factory race cars, the 2000 GT-R was stripped of all unnecessary weight to improve its performance, and kick-started Nissan's long-standing motorsport success after winning the 1969 JAF Grand Prix. Unfortunately, just as things started to look good for the GT-R, Nissan pulled the plug on it in the early 1970s in response to the international oil crisis. A new GT-R would not be seen for another 16 years.
After little success throughout the 70s, the GT-R came back strong in the 1980s during Japan's bubble era. Large Japanese corporations, newly flush with cash thanks to rising stock and real estate prices, were more experimental than they had ever been and Nissan was no exception.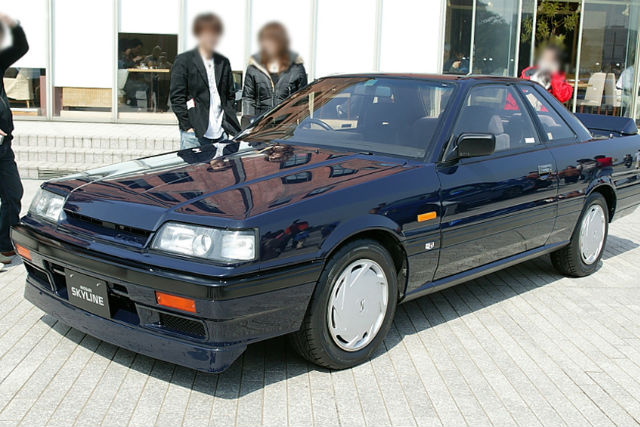 By 1985, production had begun on the first true modern GT-R, the R31 Skyline, which saw the reintroduction of the DOHC inline-six engine, this time with a total of 210 horsepower. Responses to the R31 weren't as spectacular as Nissan had hoped, but not only did it set the precedent for the modern Skyline GT-R family's shape for the next decade and a half, it directly preceded the R32 in 1989.
For the R32, Nissan took a new approach, complete with a new engine. Gone was the DOHC and rear-wheel drive setup, swapped instead for a 2.0-litre twin-turbo six-cylinder engine built by Nissan's sporting wing, NISMO. Capable of producing a meaty 320 horsepower stock, the R32 also saw the introduction of four-wheel drive for the first time, which has been a mainstay on all Skyline and GT-R models since.
Not just that, but while previous Skyline models were produced as standalone cars with racing versions following later, with the R32 Nissan had planned a racing-spec model wearing the GT-R badge from the outset.
The GT-R moniker was sacred for Nissan at the time, having last been worn on the Skyline 2000 GT-R back in the late 60s and early 70s. Legend has it that chief engineer Shurei Ito didn't reveal to anyone, even his own team, that this car would wear a GT-R badge until right before its debut, but the R32 was a car truly deserving of that most hallowed of nameplates.
Taking a "race on Sunday, sell on Monday" approach to its construction, the four-wheel drive system in the R32 GT-R was directly inspired by the Porsche 959, the most technologically-advanced car of its time and the first supercar to come with four-wheel drive as standard.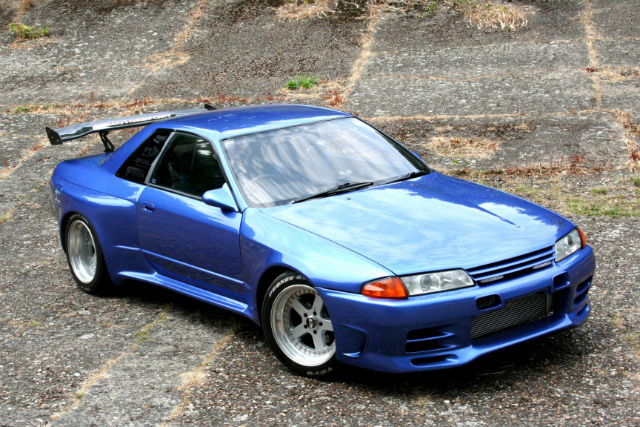 A legend is born
Like the 959, the R32 used a prodigiously complex electro-hydraulic clutch to split torque between the front and the rear, with a rear-biased setup to preserve grip out of the corners. A year after the R32 Skyline's introduction, Nissan released the first GT-R Nismo in 1990, building 560 examples to homologate it, along with several other go-faster components, for Group A racing.
The car's legend was starting to form, and it's the R32 that cemented the GT-R's 'Godzilla' nickname. From 1991, Australia was the GT-R's first export market, and after it knocked the venerable Ford Sierra Cosworth off the podium at the Australian Touring Car Championship, Australian press started to refer to it as "Godzilla, the monster from Japan".
By 1993, Nissan's legendary city-stomper would evolve into the R33, with mild upgrades including slightly more aggressive bodywork, four-wheel drive as standard and slightly more power for the engine. After success racing at Le Mans, a 400 horsepower Nismo version was released in 1996, before the car was replaced in 1998.
It was the R33's follow-up, the R34, that's arguably the most legendary Skyline GT-R in history. Instantly recognisable, thanks in no small part to its all-star cameos in various videogames and The Fast and The Furious as Brian O'Conner's ride of choice.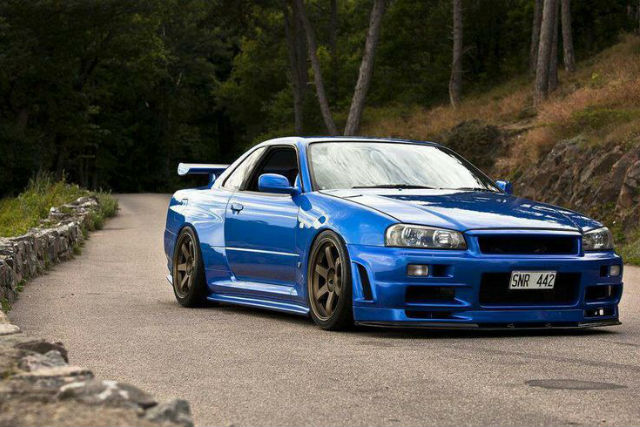 The ultimate tuner's wet dream, the R34 was the culmination of more than a decade of competition, resulting in the most powerful, most technologically-advanced Skyline model yet. Its ceramic twin-turbo inline-six put out 280 horsepower in standard guise, but tuners like HKS and Mine's were able to extract more than 800 horsepower from the car.
Four-wheel drive was standard, of course, along with a multifunction LCD display that displayed important engine and performance data right in front of the driver. Of all Japan's supercars, the R34 also was one of the most legendary thanks to its extreme elusiveness.
From the R32 onwards, the Skyline GT-R had been banned in America, not due to speed unfortunately, but due to emissions regulations. As a result, if you wanted one you had to be prepared to deal with all sorts of premiums, bureaucracies and paperwork, and for many the R34 remained a unicorn, a vain hope unattainable anywhere except in the dreams of performance car fans.
The top version of the R34 was essentially just an evolution of the R33 GT-R, with a much sharper design and an improved chassis that was developed on Germany's famous Nürburgring Nordschleife circuit. Along with its incredible popularity and motorsports success, the R34 even held the track record for production cars on the Nordschleife until the Porsche 996 911 Turbo came along, and production officially ceased in 2002.
Although a concept was shown in 2001, it would take five years for the GT-R to make its return in its final (so far) and current format, the R35. By this point, the GT-R had dropped the Skyline moniker but nonetheless paid considerable homage to its heritage via its styling and attitude.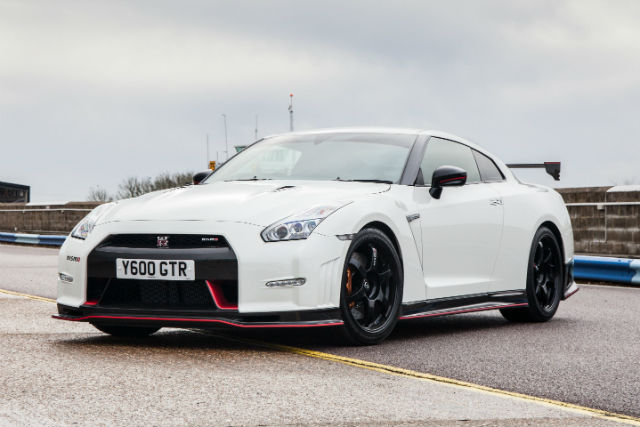 A modern monster
Also gone was the venerable inline-six, replaced instead by a twin-turbo V6 that's hand-built by only a handful of Nissan's most experienced NISMO engineers. Good for north of 526 horsepower in its most recent incarnation, the R35 GT-R is capable of destroying the 0-62mph sprint time in less than two and a half seconds, making it one of the fastest accelerating cars on the planet.
Packed with cutting-edge technology and still carrying that incredible four-wheel drive system, the current Nissan GT-R isn't just powerful; it's smart too. Nissan's engineers have constantly updated it over the years as well to further refine it and keep its performance razor-sharp. Even when compared to a multitude of more modern super and hypercars, the GT-R still more than holds its own.
Given that the current R35 GT-R has been on sale for nearly a decade now, it's likely that's finally reaching the end of its lifespan, and there are already rumours spreading about what its next incarnation will look like.
Many have suggested that it will be hybrid-powered in response to the rise of hybrid performance cars like the hypercar Holy Trinity, BMW's i8 and more, while it's thought to produce as much as 800 horsepower in its standard guise. One thing's for certain, Godzilla will return and it will be suitably atomic.
Why Is the Nissan GT-R Called 'Godzilla?'
The Nissan GT-R is perhaps one of the most iconic cars in the automotive realm. Whether you have seen it in the "Fast and Furious" franchise or know it from your favorite racing video game, you're probably familiar with this Japanese supercar. You're also likely familiar with its nickname, "Godzilla." But why is the GT-R called that?
The reason that the Nissan Skyline GT-R is called "Godzilla"
The Nissan GT-R made its initial debut in 1968 at the Tokyo Motor Show. Back then, the little two-door coupe had side mirrors on its hood and looked more like a mini Mustang than a GT-R. It was also powered by an S20 dual-overhead cam 2.0-liter inline-6 engine that made 160 hp and 130 lb-ft of torque. That may not sound very Godzilla-like, but it was the genesis of the fabled coupe and was impressive for the time.
The second generation came and went in 1973. Motor Authority reports that although the new iteration of the GT-R was highly-anticipated, the changing emissions standards made it hard for the second generation to thrive. As such, only 200 units were ever produced.
The third-generation Nissan GT-R was the one that earned the legendary nickname. About 16 years after the second generation car, the Japanese automaker revamped the GT-R. This time, it blessed it with the turbocharged 2.6-liter inline-six engine we know and love today and designated the chassis "R32." It also pumped out 276 hp instead of 160 hp.
That increase in power led to a quarter-mile time that was a whopping three seconds faster than before. It also allowed the R32 GT-R to win a string of races, most notably the Japanese Touring Car Championship from 1990 to 1993. It also won races in Europe and Australia, which is what prompted one Australian magazine to call it "Godzilla" in a cover story.
Godzilla lives on
From that point forward, the legend of the "Godzilla" Nissan GT-R lived on. The R33 continued to evolve the moniker as Nissan made it faster than before. The car's torque rating was increased to 264 and 0-60 mph time was decreased to five seconds.
After that, the venerable R34 Skyline generation emerged in 1999. It came with the same power rating, but more torque, a stiffer chassis, and a new six-speed manual transmission. This chassis also gained a lot of notoriety in the years following, mainly thanks to its role in the "Fast and Furious" movies, which introduced the car to U.S. enthusiasts.
Related
The Nissan GT-R officially came to the U.S. in July of 2008 as the R35. This time, Nissan gave it a far more potent VR38DETT twin-turbocharged engine that produced 480 hp and 430 lb-ft of torque. The six-speed manual transmission was replaced by a six-speed dual-clutch unit, and the car was given a sophisticated suspension for near-physics-defying handling characteristics.
Nissan has improved the R35 GT-R ever since, and the car now produces up to 600 hp, has a top speed of 193 mph, and a 0-60 mph time of 3.2 seconds. Does Godzilla have a soul? We think so, albeit a high-tech one. Either way, the beast lives on, and now you know how it got its name.