Which side of the car is safest for children?
What is the safest seat in a car for children and adults? The importance of seat belts and car seat design.
For decades, there has been a belief that the safest place in a car is the back seat just behind the driver – statistically, is it really the safest place in a car? An analysis of the effects of frontal crashes conducted by the Institute of Highway Safety, however, indicates that passengers traveling in the rear seat of a car suffered the most injuries. What is the reason for this?
The perception that the seat behind the driver's seat is the safest in a head-on collision is mainly due to technological reasons. The frontal controlled crumple zone naturally receives the first wave of impact. As a result, the forces acting on the rear of the vehicle cabin are dampened, reducing the risk of serious injury.
Analysis of the impact of incidents reveals the statistically safest place in a car
However, a study of frontal crashes conducted in the United States by the Institute of Highway Safety showed that more than half of rear seat passengers were more seriously injured than those in the front. Contrary to what you might think, however, this does not mean that the rear bench seat has become any less safe than it once was. This is mainly due to the fact that passive safety systems to protect front-seat passengers have developed faster. These include optimized crumple zones, airbags, and coordinated with them, more advanced seat belt tensioning mechanisms that are not always found in rear seats.
Do seat belts in a rear car seat increase safety?
The IIHS, in collaboration with a hospital in Philadelphia, analyzed traffic crashes that killed or injured more than 117 people ranging in age from 6 to 92. All of them were in the back seat of a car during a head-on collision. Medical records indicated that some of the injuries sustained by the passengers were caused by seat belts exerting too much pressure on the chest. However, this was not a result of the belts per se, but rather using an «older» version. It turns out that in many car models, the seat belts used in the rear seats do not have so-called tension limiters to protect against such injuries, which is already standard in the front seats. Of course, regardless of the type of mechanism, wearing seat belts is not only mandatory, but also the most reasonable solution. They prevent much more serious and potentially fatal injuries, such as a high-impact crash into the back of the front seat or falling through the windshield.
Where is the safest place in a car for the elderly?
The elderly are actually the most vulnerable to belt pressure injuries. Their bones are more fragile, making them more susceptible to fractures. That's why the IIHS issued a recommendation that elderly passengers should occupy the front seat if the rear seat belts are not equipped with a tension limiter.
Which seat in a car is safest for a child?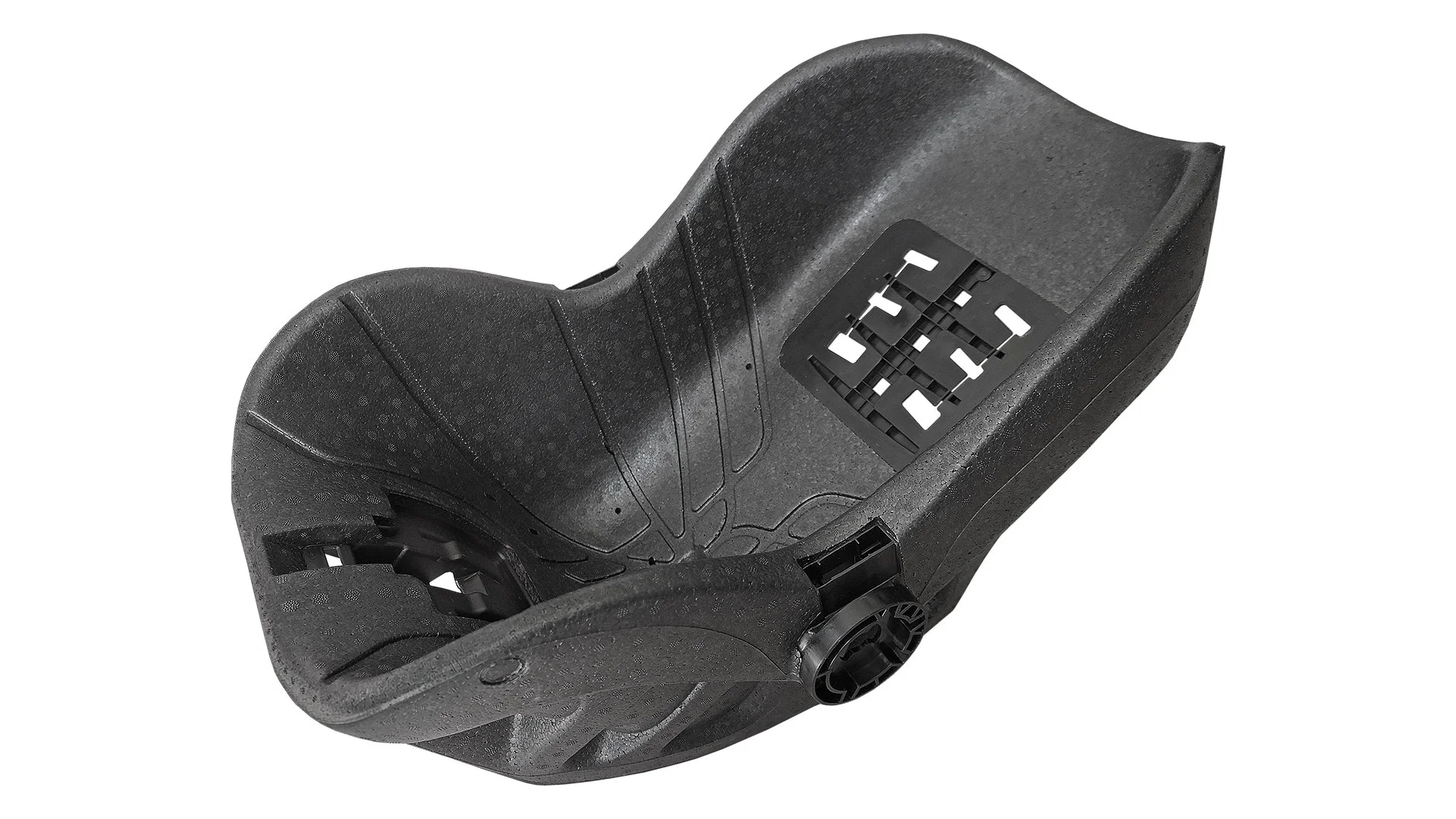 Children over the age of 13 should still travel in the back seat, as the rear area of the vehicle is subject to less stress. Alternatively, think about special seat belts for children. The back seat is also the safest place for children traveling in properly fitted and secured child car seats.
Seat belts in a car – construction and technology development
Seat belts were first introduced as a safety feature in automobiles by Volvo in the late 1970s, and have subsequently found widespread use in all vehicles.
How do seat belts work?
A basic mechanism consisting of an elastic belt attached to a spring-loaded spool allows the belt to expand and retract automatically with the passenger's unrestrained movements. However, in the event of an accident, a locking mechanism is activated to counterbalance the inertial force and prevent movement of the passenger's body.
3-point seat belts – how do they differ from 2-point belts? What is the role of pre-tensioners?
As time passed, three-point seat belts were used instead of two-point belts to support the hips, chest and abdomen, along with the addition of pretensioners to pull the belt tighter and press the body against the car seat. Today, the most popular systems include pyrotechnic pretensioners connected to the same sensors as the airbags. However, in order for such a system to provide greater safety, manufacturers began to use tension limiters, which loosen the tightened belt moments after the activation of an airbag. This allows the occupant's body to fall freely onto the airbag. In addition, the force that a tight seat belt exerts on the human body has been matched to the minimum strength of the body to prevent damage. Rear seat passengers are not protected by airbags, so in many cases, the seat belts used in this section have not evolved as much. However, nowadays more and more manufacturers are starting to use seat belt pretensioners and tension limiters on the rear seat as well, and even mechanisms to prevent the passenger from slipping off the seat. In this context, the proper design of a rear car seat is of great importance.
Why is the back seat in a car the safest place for a child?
A well-designed rear car seat is not only supposed to provide comfort when traveling, but also maximum safety. This is of great importance, since it is often used by older children, who are no longer able to travel in car seats due to their height. Apart from seat belts, also headrests and properly formed back seats are responsible for protecting passengers in this area of a car. The rear bench seat must be solidly reinforced, have adequate depth and a characteristic longitudinal indentation on the edge, which prevents the passenger from sliding forward in the event of an impact.
What is a safe rear car seat made of?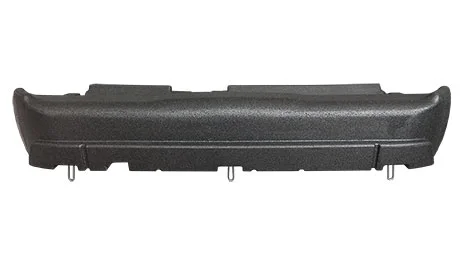 Rear seat bases are now manufactured from modern foamed plastics that have high mechanical strength and, in combination with soft foams, provide high passenger comfort. Knauf Industries' EPP foam molding technology allows for a cost-effective production of custom designed seat parts with metal reinforcement and inserts for easy installation in a single cycle. Specially designed molds are used to achieve the desired shapes in every detail according to the design. Because of their damping properties and ability to elastically return to the previous shape, EPP foams are also used in the production of headrests, armrests and door panels, providing comprehensive passive protection for passengers, not only in the back seat of a car.
The Back Seat is the Right Seat
Have you ever read the warning behind your sun visor in the passenger side of your car?
Have you ever seen this sticker on your child's car seat?
Both of these warnings are so ubiquitous that maybe you haven't stopped to read them (or, maybe, your kids are so loud and busy that you haven't had the chance). These federally mandated warnings say the same thing: the vehicle's back seat is the safest place for children under age 13 to ride. Sometimes, this warning reads "12 and under", but the recommendation remains the same: kids should ride in the back seat if at all possible before they turn 13.
Why should kids ride in the back? Two main reasons: first, it has been the safest place to ride for most of automobile history, and second, the airbags in modern cars are not made to protect pre-pubescent bodies. Let's look at the evidence behind this recommendation in more detail.
The back seat is usually the safest place for any passenger to ride.
The recommendation to buckle children in the vehicle's back seat is part of an evolving suite of technological and public health advances. These advances have reduced childhood injury and death due to vehicle crashes. The rate of children dying in car crashes has decreased by 60 percent between 1975 and 2013 (IIHS Fatality Facts). This is great progress!
Other advances in vehicle safety include lap-shoulder seat belts, modern child restraints, airbags and other technological innovations. In addition, public health campaigns aimed at parents and care givers have brought safety into the forefront of public awareness.
This 10-year-old still needs a boost in the back seat of the Nissan Quest
I can't be the only person in her thirties who remembers Big Bird saying "Kids in the back seat!" and the kids answering "and buckle up!"
Truly, we have made great strides in vehicle safety in this time. Despite these advances, children are still fatally injured in the front seat when the back seat offers such superior protection. While 46% of childhood deaths in cars happened to front seat passengers in 1975, 15% happened to front seat passengers in 2013. This means that there are still deaths that can be prevented by safely restraining children in the rear of the vehicle (IIHS Fatality Facts).
At the same time that Big Bird was reminding parents, and kids, that children should ride in the vehicle's back seat, airbag technology became standard safety equipment. Airbags began being installed in passenger vehicles in the 1980s and dual airbags were mandated in the US in 1998.
Front airbags are not safe for small bodies
Airbags are life saving technology and cars are much safer since they have become a standard safety feature. NHTSA estimates that in 2002 alone 2,288 lives were saved by frontal airbags (NHTSA , 2009). Frontal airbags however, are designed to protect adults. The Children's Hospital of Philadelphia estimates that children are twice as likely to be seriously injured if they are exposed to an airbag (CHOP, Airbags). In a frontal accident, airbags explode using nitrogen gas at about 200 miles per hour. This instantaneous explosion, designed for the size and bones of an average adult wearing a seat belt, can be deadly for a child, even one wearing a seat belt.
Even in vehicles made after 2004 that are equipped with advanced airbags, the back seat remains the safest place for children to ride. The newest airbags are much more complex than those of previous decades. They use sensors throughout the car and front seat to adjust how and when the airbag deploys in different types of crashes. These advanced frontal airbags, however, are still designed for an adult and are still dangerous for children.
Several studies have considered only modern vehicles and concluded that children are significantly safer in the back seat. Studies in 2000 (Berg 2000) and 2005 (Durbin 2005) both confirmed that children in the front seat were at up to a 40% greater risk of injury and urge that appropriate restraints be used in concert with keeping children under age 13 in the back seat.
At 11.5 years old, this Big Kid is big enough to use the seat belt, and still young enough to be vastly better protected in the back seat.
What about those times when kids might need to ride in the front seat? There are situations when the only appropriate seat for all children (even rear facing ones) may be the front. For example, a two-seater car, or a truck without a back seat. If this one row vehicle has an airbag that turns off with a key or if there is no airbag, the front seat is the only place for a child to ride. A situation where a caregiver absolutely must transport four children in a five person vehicle (and all other resources, including alternate care and public transportation have been exhausted), that parent might need to make the tough decision to put a child under the age of 13 in the front seat in an appropriate restraint with the seat pushed as far back as possible. In an older car where there is only a lap shoulder belt in the front seat and the child in question has outgrown appropriate harnessed seats, the front seat might be the best choice. These are not the most common situations.
More common is parents interpreting legal minimums as safety standards, or briefly bending their rules in the belief that one time in the front seat couldn't hurt. Unfortunately, laws do not reflect the safest choice, and since children are so much more likely to suffer injury or death in the front seat, one time very much could hurt.
A study in Injury Prevention on urban parents suggested that though drivers knew that the back seat was the right seat for kids, they would periodically let their kids ride in front, either in response to social pressure, or as a treat (Lennon, 2007). In other words, even though these parents had a rule about kids in the back seat, they would sometimes bend the rules. We know that as parents, it's our job not to give in to peer pressure to make an unsafe choice. We also know that not giving in isn't always easy, but the overwhelming evidence of the last thirty years says that the front seat is just too risky to be used as a treat. Just like everyone needs a seat belt if the car is going to move, kids need to be buckled up in the right seat for every trip, no matter how short. The seat belt rule applies to adults and the back seat rule applies to big kids too: crashes happen close to home, on short trips and in an instant.
Finally 13 years old and riding in the front seat
In the past decades we've made great strides in car safety and child restraint technology. But even with these advances, kids still benefit overwhelmingly from not riding in the front seat (Arbogast 2009) for two simple reasons: first the back seat is the safest place to ride and second the safety features of the front seat aren't designed to protect small immature bodies. In most cases keeping kids in the back seat is simple, and this one simple act can put your child (probably your big kid) at a 40% lower risk of suffering injury or death. Keeping kids in the back seat long after the legal requirement is, in most cases, the easiest thing you can do to protect your children in the event of a vehicle crash. When used in concert with the right car seat or booster for your children who don't yet fit in the seat belt, this one simple choice could save your child's life.
Arbogast KB, Kallan MJ, Durbin DR. Front versus rear seat injury risk for child passengers: evaluation of newer model year vehicles. Traffic Inj Prev. 2009 Jun;10(3):297-301. doi: 10.1080/15389580802677799.
Marc D. Berg, et. al. Effect of Seating Position and Restraint Use on Injuries to Children in Motor Vehicle Crashes. Pediatrics Vol. 105 No. 4 April 1, 2000 pp. 831 -835. Retrieved from http://pediatrics.aappublications.org/content/105/4/831.abstract
Children's Hospital of Philadelphia. Car Seat Safety for Kids: Airbags. Retrieved from http://www.chop.edu/pages/air-bags#.VebF9c6sY-8
Dennis R. Durbin, et. al. Effects of Seating Position and Appropriate Restraint Use on the Risk of Injury to Children in Motor Vehicle Crashes. Pediatrics Vol. 115 No. 3 March 1, 2005 pp. e305 -e309 doi: 10.1542/peds.2004-1522
Insurance Institute of Highway Safety Highway Loss Data Institute. Fatality facts: Child Safety. Retrieved from http://www.iihs.org/iihs/topics/t/child-safety/fatalityfacts/child-safety
Alexia Lennon. A risky treat: exploring parental perceptions of the barriers to seating their children in the rear seats of passenger vehicles
Inj Prev 2007;13:2 105-109. doi:10.1136/ip.2006.012906 .
National Highway Traffic Safety Administration, Department of Transportation. (2009) Lives Saved Calculations for Seat Belts and Frontal Air Bags
Choosing a baby car seat
If you have your baby in hospital or a birth centre, you will need the car seat to drive your newborn home safely. It's a good idea to practise fitting the seat before your baby is born.
Tips for buying a baby car seat
When buying a car seat, it's best to try a few in your car before making a decision. Try to find a retailer who is willing to help you with this. Ask whether staff have been trained in fitting car seats.
Check whether your car has Isofix connectors built into it. These are designed to make fitting baby and child car seats simpler. Most modern family cars have them. They may be hidden in the cracks between the padding of your car seats.
If your baby is likely to travel in another car regularly – for example, with other family members – check the car seat fits their car, too.
Some car seat manufacturers have online guides showing which cars their seats will fit in.
Always choose a baby or child car seat that's right for your child's current height and weight.
Do not buy a secondhand car seat. It could have been damaged in an accident, and may not have all its parts, including the instructions. It may also not be the safest and most user-friendly model, plus it may not fit your car properly.
Only accept a car seat from friends or family if you know its history, it's not too old and it comes with instructions.
Think about how you will be using the car seat. If you'll be lifting your baby in and out of the car a lot, for example, you may be better off getting a lightweight seat with a base that stays in the car.
All car seats in this country should be EU approved. Look for the «E» mark label on the seat.
What are i-Size car seats?
i-Size is an European safety standard for baby and child car seats. It's part of regulation ECE R129, which will eventually replace the old safety regulation R44/04. The idea is that all car seats will eventually meet the tighter i-Size safety standards.
Your car must have Isofix connectors for you to be able to use an i-Size car seat. At the moment there are only a few i-Size seats on the market in the UK and not all cars have Isofix connectors.
What size car seat?
Car seats are divided into 3 main groups, depending on your baby or child's age and weight:
group 0+ – rear-facing car seats suitable for babies aged up to about 15 months or who weigh up to 13kg (29lb); some can be clipped on to a pushchair frame and are known as travel systems
group 1 – rear or forward-facing seats suitable for children who weigh 9-18kg (20-40lb) or who are aged from about 9 months to 4 years
group 2/3 – rear or forward-facing high-backed booster seats suitable for children who weigh 15-36kg (33lb-5st 9lb) or are aged from about 4 to 11 years
You can also buy combination seats that cross over these groups, such as group 0+/1 seats, which are suitable from birth until your child weighs about 18kg (40lb) or is aged about 4.
Use a rear-facing car seat for as long as your child fits into it, as these offer better protection in the event of a car accident.
Baby or child car seat fitting
It is dangerous and illegal to carry a baby in a rear-facing baby seat in a front passenger seat that has an active airbag. Forward-facing seats in the same position, while not illegal, are not ideal. It's always safer for children to travel in the back of the car.
Make sure the seat is fitted properly in the car, following the manufacturer's instructions.
Look out for safety days where experts demonstrate how to fit baby and child car seats safely. These often take place in supermarket or shopping mall car parks.
Using a baby or child car seat
Make sure you always put your baby into their car seat from the pavement side of the car.
Make sure your baby is securely strapped in according to the manufacturer's instructions. When you buy your car seat, ask the retail staff to demonstrate how to strap your baby into it.
More help and advice on car seats
The road safety officer at your local council can give you detailed advice about child car seats. You can find your local council on GOV.UK.
You should be able to get advice from any good car seat retailer or the manufacturer.
You'll find lots more advice on the RoSPA child car seat safety website.
Visit GOV.UK for information about baby car seats and the law.
See tips on choosing the right car seat for your baby on the Which? website.
More in Safety
Page last reviewed: 24 November 2022
Next review due: 24 November 2025
Support links
Home
Health A to Z
Live Well
Mental health
Care and support
Pregnancy
NHS services
Coronavirus (COVID-19)
NHS App
Find my NHS number
Your health records
About the NHS
Healthcare abroad
Contact us
Other NHS websites
Profile editor login
About us
Accessibility statement
Our policies
Cookies