Who is the deadliest pilot in history?
The Death of The Red Baron
Manfred Albrecht Freiherr von Richthofen was born into an aristocratic Prussian family in Breslau in 1892. Son of Major Albrecht Philipp Karl Julius Freiherr von Richthofen, his education was in a succession of military schools and academies. An excellent athlete and horseman he was commissioned in the First Regiment of the Uhlans Kaiser Alexander III in 1911 and after the war started in 1914 served on both the western and eastern fronts as a cavalry officer. In 1915 he transferred to the Imperial German Army Air Service (Luftstreitkräfte) and studied aerial tactics under the master German strategist, Hauptman Oswald Boelcke, flying his first combat mission after less than thirty hours of flight instruction. In spite of an indifferent start as a fighter pilot he nonetheless was invited to join Boelcke's Jagdstaffel 2 squadron and soon excelled in combat following the Boelcke Dicta, which included approaching his enemy from above with the sun behind him, firing only at close range, always keeping his eyes on his target, and attacking in a group of four to six planes.
Portrait photo of the romantic and daring young 'Baron' Manfred von Richthofen
With the beginning of 1917 he had 16 confirmed kills, had been awarded Germany's highest military decoration, Pour le Mérite, and was commander of a squadron, Jasta 11, of elite fighter pilots. In April 1917 alone he downed 22 British planes. Flying a series of Albatros aircraft his vanity led him to have each painted red. As the German 'Freiherr' was translated into English as 'Baron' it was but a short time until he was known to the world as 'The Red Baron.' His squadron was combined with three others to form Jagdgeschwader 1 which was widely feared as The Flying Circus. His younger brother, Lothar, was also a fighter pilot but far more daring than Manfred. Lothar had 40 confirmed kills and, ironically, survived the war.
The brothers Manfred and Lothar von Richthofen
In July 1917 The Red Baron crashed in Belgium after being attacked by Captain Donald Cunnell of The Royal Flying Corps, sustaining a severe head injury, likely a skull fracture. In spite of blurred consciousness and visual compromise he had managed to land his plane. Over several months he flew occasionally and had several operations to remove bone splinters from his head wound. He suffered headaches and a distinct change in his personality which persisted until his death. Against medical advice he returned to regular flying with his group in October of 1917 downing 18 planes until his death six months later. At the time of his death he had downed 80 planes in all. He was the leading air ace of WW-I followed by René Fonck of France with 75 confirmed kills and Billy Bishop of Canada with 72. Both Fonck and Bishop lived on long after the war, each dying in the 1950s.
Von Richthofen met his end on 21 April 1918 in somewhat unusual circumstances. While pursuing a Canadian pilot with little experience and at a very low altitude (Lieutenant Wilfrid May) he was chased away by a seasoned Canadian pilot (Captain Arthur Brown) who dived steeply and fired at him before climbing to avoid crashing into the ground. The Baron resumed his pursuit of May but shortly, facing concentrated fire from Australian troops on the ground, he made a rough landing in a field near The Somme River. The soldiers, who had fired on his plane from the ground, got to his wrecked red Fokker triplane quickly and may or may not have heard his last words which, allegedly, included the word kaput. Exact accounts of damage to his plane by gunfire — before it was dismantled by soldiers seeking souvenirs — are not to be found.
Actual photo of 'The Fed Baron' landing his Fokker DL1 triplane
His body was taken to an Australian Flying Corps hangar at Poulainville, washed by a corpsman, and shortly examined by at least four medical officers. The body was not opened. An entrance wound and an exit wound were superficially identified and probed with a fence wire. Subsequent reports by two of these men — one a colonel and the other a captain — are not congruent. The most plausible conclusion of the several viewings of his body, immediately and a bit later, suggest that a single bullet entered von Richthofen's right lateral chest, passed through his right lung and heart, and exited through his left chest. Before the red Fokker airplane was scavenged some thought that a single bullet hole on the right side of the cockpit lined up with his chest entry and exit wounds. His body was buried on 22 April in a village churchyard near Amiens, France, after a military funeral conducted by Commonwealth forces.
Burial of Manfred von Richthofen on 22 April 1918, please note identities of British Commonwealth soldiers
The myths and mystique associated with Manfred von Richthofen and his death resulted in immediate and continuing fascination by the press and other media. Captain Arthur Brown received a bar to his Distinguished Flying Cross but not the Victoria Cross, earlier allegedly promised by Britain for the man who killed The Red Baron. In spite of many claimants no Australian soldier received any decoration for causing von Richthofen's end. The best scenario for the death of von Richthofen gives credit to Sergeant Cedric Popkin of the 24th Machine Gun Company of the First Australian Imperial Force who fired his Vickers machine gun at the red Fokker DR1 triplane as it banked to the left and fled to avoid fire from Lewis guns manned by Robert Buie and Snowy Evans. It can be assumed that the flying skills of The Red Baron were quite intact on 21 April for he had downed two enemy planes just the day before.
There was no glamour in trench warfare and precious few heroes. By contrast aerial warfare was the stuff of gallant knights of the air dueling in single combat far above the mud, misery, and mortality of the trenches far below them. That Baron von Richthofen was almost surely brought to his death barely above these trenches by a plucky Australian machine gunner remains a great irony of The Great War.
Images are from The Imperial War Museum in London and an unidentified source.
Who is the deadliest pilot in history?
Other Marine Aces
Although the colorful time of the Solomons Campaign, and the equally colorful men like Boyington and Hanson, were gone, other Leatherneck aviators achieved sizeable scores, and a measure of fame, if only within their operating areas and squadrons.
VMF-214's five-month tour of combat created eight aces, including Pappy Boyington. The Black Sheep accounted for 97 Japanese aircraft downed. VMF-215's tour lasted four-and-a-half months, and Bob Hanson and his squadron mates — the squadron's roster included 10 aces — destroyed 137 enemy aircraft, 106 in the last six weeks.
Besides Boyington, the Black Sheep alumnus who had one of the most interesting careers was John Bolt. Then-First Lieutenant Bolt shot down six aircraft in the Pacific. Ten years later, now-Major Bolt flew F-86s as an exchange pilot with the U.S. Air Force in Korea. During a three-month period, May-July 1953, he shot down six Russian-built MiG-15s, becoming the Marine Corps' first and only jet ace, and one of a very select number of pilots who became aces in two wars.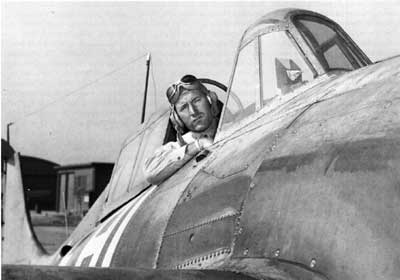 Maj Edward Overend, shown here in a Wildcat in San Diego in 1945, flew with the Flying Tigers, shooting down five Japanese aircraft, thus becoming one of the first American aces of the Pacific war, albeit under another country's colors. Maj Overend scored 3.5 kills while leading VMF-321, for a combined total of 8.5 victories in P-40Bs and F4U-1As. Department of Defense Photo (USMC) 47912
While Lieutenant Robert Hanson was the star of VMF-215 for a few short weeks, there were two captains who were just as busy. Donald N. Aldrich eventually scored 20 kills, while Harold L. Spears accounted for 15 Japanese planes. The two aces were among the senior flight leaders of VMF-215.
Don Aldrich had been turned down by recruiters before Pearl Harbor because he was married. Like many other eager young men of his generation, he went across the Canadian border and enlisted in the Royal Canadian Air Force in February 1941. He got his wings that November. But the RCAF put the new aviator to work as an instructor. When the U.S. entered the war, Aldrich had no trouble rejoining his countrymen, and eventually got his wings of gold as a Marine aviator, following which, he headed for the Solomons. From August 1943 to February 1944, in three combat tours, Captain Aldrich gained an impressive number of kills, 20. Although he survived the war, he died in an operational accident in 1947.
Harold Spears was commissioned a Marine second lieutenant and got his Marine commission and his wings in August 1942. He joined VMF-215 as the squadron wandered around the various forward bases near Bougainville. Spears wanted to make the service his career, and shortly after finishing his combat tour, during which he shot down 15 Japanese planes, he was assigned to El Toro, and eventually to a new fighter squadron, VMF-462.
One of the most successful but least known Marine Corsair aces was First Lieutenant Wilbur J. Thomas, whom Barrett Tillman called «one of the deadliest fighter pilots the Corps ever produced.» He scored 18.5 kills while flying with VMF-213. Thomas' combat career is remarkable because he scored most of his kills in a one-month period during the hotly contested landings on Rendova and Vangunu islands in mid-1944.
After staying in the rear area of the New Hebrides, Thomas was finally transferred to the combat zone. He flew his first missions in June and July 1943. His mission on 30 June was a CAP mission over amphibious landings at Wickham Anchorage on the southern tip of New Georgia.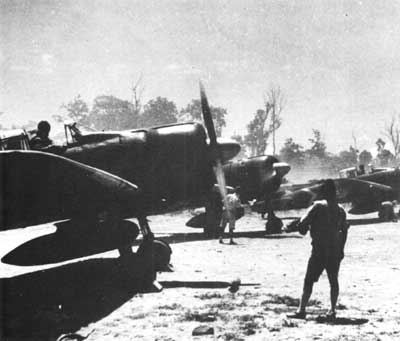 Zero fighter-bombers prepare to launch for a raid from their weapon, the Zero toted light bombs as required, and ended the war Bougainville base in late 1943. Originally an air superiority as one of the primary aircraft used by the Kamikaze suicide pilots. Author's Collection
Fifteen Zeros pounced Thomas's fighters. After he had become separated from his group, seven Zeros had attacked the lone F4U, but, undeterred by the odds, Thomas turned into the Japanese, eventually shooting down four of them. He was awarded the Distinguished Flying Cross for this mission. Three weeks later, on 17 July, Thomas and his wingman attacked a group of Japanese bombers and their Zero escort, and shot down one of the bombers.
Thomas was on the receiving end of enemy fire on 23 September. After shooting down three Zeros, and splitting a fourth with his wingman, the young ace found he had taken hits in the oil lines. His engine seized and he glided toward the water, eventually bailing out at 3,000 feet. He scrambled into his rubber raft and waited for rescue. He paddled for five hours to keep from drifting to enemy positions. After 10 hours, a Consolidated Catalina flying boat (PBY) set down beside him and brought him home.
By the time VMF-213 left for the States in December, Wilbur Thomas had scored 16.5 kills in five dogfights. He returned for another combat tour, this time on board the carrier Essex (CV 9) headed for the South China Sea and Japanese bases in Southeast Asia. He added two more kills to his previous score when he took out two Zeros near Tokyo during Essex's first strike against the Japanese Home Islands on the afternoon of 16 February 1945.
Again, as did several of the young aces who managed to survive the war, now-Captain Thomas died in a postwar flying mishap in 1947.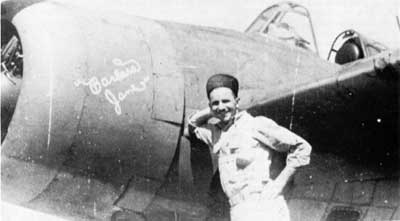 Maj Robert Galer with his ubiquitous baseball cap leans against his Wildcat. «Barbara Jane» was a high school sweetheart. (He didn't marry her.) The square panel directly beneath the aircraft's wing was an observational window. Photo courtesy of BGen Robert Galer, USMC (Ret)
By mid-1944, the war had moved on, past the Solomons and Bougainville. closer to Japan and into the final battles in the Philippines and on to Iwo Jima and Okinawa. There were still occasional encounters in these now-rear areas until the end of the war, and other Marine aviators became aces, but the end of the Solomons Campaign also saw the end of the hey day of the aces.
Fighter pilots and their missions sometimes fall into a nondescript category. By themselves, they rarely decide the outcome of major battles or campaigns, although exceptions might well be Guadalcanal and the Battle of Britain.
The Cactus fighters defended their base daily against enemy raids, and the Marine Corps aces were colorful. They established a tradition of dedication, courage, and skill for their successors in future generations of military aviators. It is 50 years since John Smith, Bob Galer, Marion Carl, Joe Foss, and Greg Boyington led their squadrons into the swirling dogfights over the Solomons. But the legacy these early Marine aces left to their modern successors lives on in a new era of advanced weapons and technology.
Researching the Aces' Scores
Meticulous investigation by Dr. Frank Olynyk has refined and changed the established list of aces. In most respects, he has reduced by one or two kills an individual's score, but in some instances, he has generated enough doubt about the vital fifth kill that at least two aviators have lost their status as aces during World War II. One man, Technical Sergeant John W. Andre of night-fighter squadron VMF(N)-541, shot down four Japanese planes in the Pacific, and scored a fifth kill in Korea. Thus, he is a bonafide ace, but not solely by his service in World War II.
In an article published in the Summer 1981 issue of Fortitudine, the bulletin of the Marine Corps History and Museums Division, Dr. Olynyk discussed the problems associated with compiling records of kills, especially for the Marine Corps. Whether an enemy aircraft which was last seen descending with a trail of smoke should be considered destroyed cannot always be decided. Thus, several «smokers» were claimed as definite kills.
He also commented, «. most of the pilots whose scores are subject to some uncertainty are all from the 1942-early 1943 period when air combat was the heaviest. War diaries from this period are often incomplete, or even non-existent. «
Retired Brigadier General Galer put the question of aces and their kills in perspective. In a recent letter to the author he wrote, «Aces' scores are not an exact number. There were too many people shooting at the same targets. The enemy might sustain some battle damage, such as in the engine, but they could run for another five minutes. It was tough to be accurate.»
Then-Captain Stanley S. Nicolay, who shot down three Bettys during his tour with VMF-224, also commented on the problems of simply engaging the enemy.
«There were a lot of people out there who didn't get any (kills), but they worked their tails off. Shooting down an airplane is 90 percent luck; you're lucky if you find one. Most of the time, you can't. That sky gets bigger and bigger the higher you go.
«We had no radar. Even our radios weren't very good. We depended on our sight. Look, look, look, with our heads on a swivel.»
USMC Aces During the Period August 1942-April 1944
* Awarded the Medal of Honor.
VMF-112:
Lieutenant Colonel Paul J. Fontana. 5 victories.
Retired as a major general.
Major Archie G. Donahue. 14 victories.
Major Robert B. Fraser. 6 victories.
Captain Jefferson J. DeBlanc*. 9 victories (1 in F4Us).
Captain James G. Percy. 6 victories (1 in F4Us).
First Lieutenant John B. Maas, Jr. 5.5 victories.
Lieutenant Colonel Donald K. Yost. 8 victories (2 in F4Us).
Lieutenant Colonele Leonard K. Davis. 5 victories.
Major Joseph H. Reinburg. 7 victories.
Major Francis E. Pierce, Jr. 6 victories.
Major Perry L. Shuman. 6 victories in F4Us.
Captain Joseph J. Foss*. 26 victories.
Retired as a brigadier general in Air National Guard Captain Thomas H. Mann, Jr. 9 victories.
Also flew with VMF-224.
Captain Ernest A. Powell. 5 victories.
Captain Robert M. Baker 5 victories.
Captain Donald C. Owen. 5 victories.
Captain Kenneth M. Ford. 5 victories in F4Us.
First Lieutenant William P. Marontate. 13 victories.
First Lieutenant William B. Freeman. 6 victories.
First Lieutenant Roger A. Haberman. 6.5 victories.
Captain Gregory K. Koesch. 8.5 victories.
Second Lieutenant Cecil J. Doyle 5 victories.
Second Lieutenant Joseph L. Narr 7 victories.
Captain Kenneth A. Wash*. 21 victories in F4Us.
Lieutenant Colonel Harold W. Bauer*. 10 victories.
Major Frank C. Drury. 6 victories (1 in F4Us).
Also flew with VMF-223.
Major Robert E. Stout. 6 victories. Flew with VMF-224.
Captain Jack E. Couger. 10 victories.
Captain Phillip C. DeLong. 11-1/6 victories in
World War II, two victories in Korea (all in F4Us).
Major Hugh M. Elwood. 5.1 victories.
Retired as a lieutenant general.
Captain Loren D. Everton. 10 victories.
Also flew with VMF-223.
Warrant Officer Henry B. Hamilton. 7 victories.
Also flew with VMF-223.
Major Frederick R. Payne, Jr. 5.5 victories.
Also flew with VMF-223.
VMF-213 (all kills in F4Us):
Lieutenant Colonel Gregory J. Weissenberger. 5 victories.
Major James N. Cupp. 12 victories.
Captain Sheldon O. Hall. 6 victories.
Captain John L. Morgan, Jr. 8.5 victories.
Captain Edward O. Shaw. 14.5 victories.
Captain Wilbur J. Thomas. 18.5 victories.
VMF-214 (all kills in F4Us):
Major Gregory Boyington*. 28 official victories.
Captain William N. Case. 8 victories.
Captain Arthur R. Conant. 6 victories.
Captain Donald H. Fisher. 6 victories.
Captain John F. Bolt, Jr. 6 victories in World War II, six victories in Korea.
Captain Christopher L. Magee. 9 victories.
Captain Robert W. McClurg. 7 victories.
Captain Paul A. Mullen. 6.5 victories.
Captain Edwin L. Olander. 5 victories.
First Lieutenant Alvin J. Jensen. 7 victories.
VMF-215 (all kills in F4Us):
Captain Donald N. Aldrich. 20 victories.
Captain Harold L. Spears. 15 victories.
First Lieutenant Robert M. Hanson*. 25 victories.
Lieutenant Colonel Nathan T. Post, Jr. 8 victories.
Captain Harold E. Segal. 12 victories.
Captain William N. Snider. 11.5 victories.
Captain James E. Swett*. 15.5 victories (7 in F4Fs).
Captain Albert E. Hacking, Jr. 5 victories (in F4Fs).
VMF-222 (all in F4Us):
Major Donald H. Sapp (later changed to Stapp). 10 victories.
Major John L. Smith*. 19 victories.
Major Hyde Phillips. 5 victories.
Captain Marion E. Carl. 18.5 victories (2 in F4Us).
Retired as a major general.
Captain Kenneth D. Frazier. 13.5 victories (1 in F4Us).
Captain Fred E. Gutt. 8 victories.
Captain Orvin H. Ramlo. 5 victories.
First Lieutenant Charles Kendrick. 5 victories.
First Lieutenant Eugene A. Trowbridge. 6 victories.
Second Lieutenant Zenneth A. Pond. 6 victories.
Lieutenant Colonel John F. Dobbin. 7.5 victories.
Major Robert E. Galer*. 14 victories.
Retired as a brigadier general.
Major Charles M. Kunz. 8 victories.
Captain George L. Hollowell. 8 victories.
First Lieutenant Jack Pittman, Jr. 5 victories.
VMF-321 (all in F4Us):
Major Edmund F. Overend. 8.5 victories, including 5 with the Flying Tigers (3.5 in F4Us).
Captain Robert B. See. 5 victories.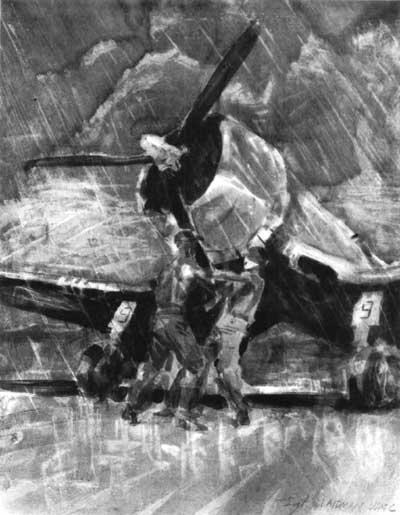 Henderson Field-Night. Watercolor by Sgt Hugh Laidman in the Marine Corps Art Collection