Why do pilots say angels?
What Do Fighter Pilots and Incident Management Have in Common?
What do fighter pilots and incident management have in common? A lot more than you realized, says seasoned fighter pilot, Anthony «AB» Bourke who recently spoke at Transposit's Happy Hour at DevOps Enterprise Summit.
Imagine this: The best of the best at what you do, you're recruited to fly in the Blue Angels. «So now we want you to fly your jet at very low altitude over large crowds of people traveling very high speeds and making a ton of noise. And then we want you to fly in formations where you will only have 18 inches of wingtip clearance between yourself and your leader. And there's one other thing I should mention. Half the time we'd like you to be inverted—upside down. So much like in your business, the consequences for failure are very high.»
He's right. How often does it, in fact, feel like «flying upside down» as an on-call engineer, being ushered through the revolving door of systems and under more pressure than ever during the pandemic? It can be a dizzying experience. And the consequences for failure and the expectation of a «perfect mission» have never been higher.
With so much at stake on solid ground working in incident management, what can we learn from fighter pilots that can help us run and keep our mission critical services safe?
Debriefing Is a Non-Negotiable#
While we think of the epic flights pilots take as the most important part of their job, Bourke stressed that the debrief is as important as the mission itself.
After every mission—without exception—fighter pilots spend almost twice as long debriefing as they did flying. The fact of the matter is that «no matter how good we think we are, no matter how well we plan, no matter how good our technology is, no matter how good our people are, no fighter pilot has ever flown the perfect mission.» Most of our learning doesn't happen during the mission or incident itself, it happens afterwards when we can recover and discuss with our peers, looking with clear heads at what happened.
We can, and should, take this discipline into our own incident management practices. «Don't think about this concept of debrief as something that can only work in the military,» Bourke said. «Think about how you can raise the bar on how you're giving and receiving feedback.» Not only will you accelerate the experience of your new hires faster, but you'll also find that the experienced people on your team are able to break through the artificial glass ceiling that's keeping them from getting better and adapting to inevitable change.
The Key to a Debrief: Transparency#
Fly on this journey with us for a minute. You're a mid-level officer, and you've just returned from a training mission with a group of officers, along with a two-star general. As you debrief the mission, you notice in the video that the general was a 100 miles off target coming home and still had the «Master Arm» switch in the arm position (meaning weapons are still live) when you're supposed to go «Master Arm» safe 50 miles off target. Do you tell the general—who is in charge of your pay, promotions, and demotions—their misstep?
When Bourke asked this question, many of us cringed at the idea of telling an authority figure they'd made a mistake. But then he presented the potential consequences of keeping lips sealed. The F16s your squadron was flying has the capacity to drop 2,000 pound bombs and can shoot 6,000 rounds a minute. As you approach the base, one press of a button could be a deadly mistake that takes out your own troops. With this added information, the answer was obvious. Transparency is not optional.
The practice of debriefing makes teams stronger and more adaptable when the next mission (or incident) comes. But the special sauce of the debrief requires a not-so-secret but often hard to come by ingredient: full transparency.
During a debrief, hierarchy should be stripped away and egos set aside. «When the door to the debriefing room closes, something magical happens,» Bourke said. «Name tags come off our chest, and we hold the debrief where there is no hierarchy, and the sole purpose is to learn and get better.» Bourke urges teammates to be «their own worst enemy,» exposing their own mistakes and committing to make a change going forward. Rather than placing blame, teammates gain confidence in their fellows.
Creating this environment takes a conscious effort on the part to leadership to make a safe space for teammates of all rankings to be honest. «Our leaders must find a way to create an environment where their people can give them the honest, real-time feedback they need to help them make the right decisions that keep them ahead of the threats, ahead of the competition, and ahead of the inevitable change.»
Take Your Incident Management to New Heights With Post-Mortems#
Take it from Bourke: «Debrief is the most powerful tool in the world to help accelerate experience of people in an organization, to help make everybody on your team wizards, and to drive better results.» If we truly want to practice continuous improvement, post-mortems should be consistent, thorough, and shared widely.
The first step is to make sure your team is doing post-mortems after every single incident. Second, post-mortems need to examine the details of what actually happened in the incident resolution process, not just what created the issue. In a safe environment, teammates will feel comfortable sharing what they could have done better and identify areas for improvement. Lastly, learnings should be shared across the organization so information isn't siloed and you're not adding to institutional knowledge. You never know who may need to jump into action during the next incident, and these learning will help them better prepare for that scenario.
Our missions may be different in altitude but very similar in principle. Extreme stress. High stakes. And the never-ending opportunity to learn. Taking a page from the book of fighter pilots, we can become the Mavericks in our own organization, taking our processes to new heights. Transparency, honesty, and a commitment to learning and improvement are the stuff that will make our incident management soar.
The Wind Beneath the Blue Angels' Wings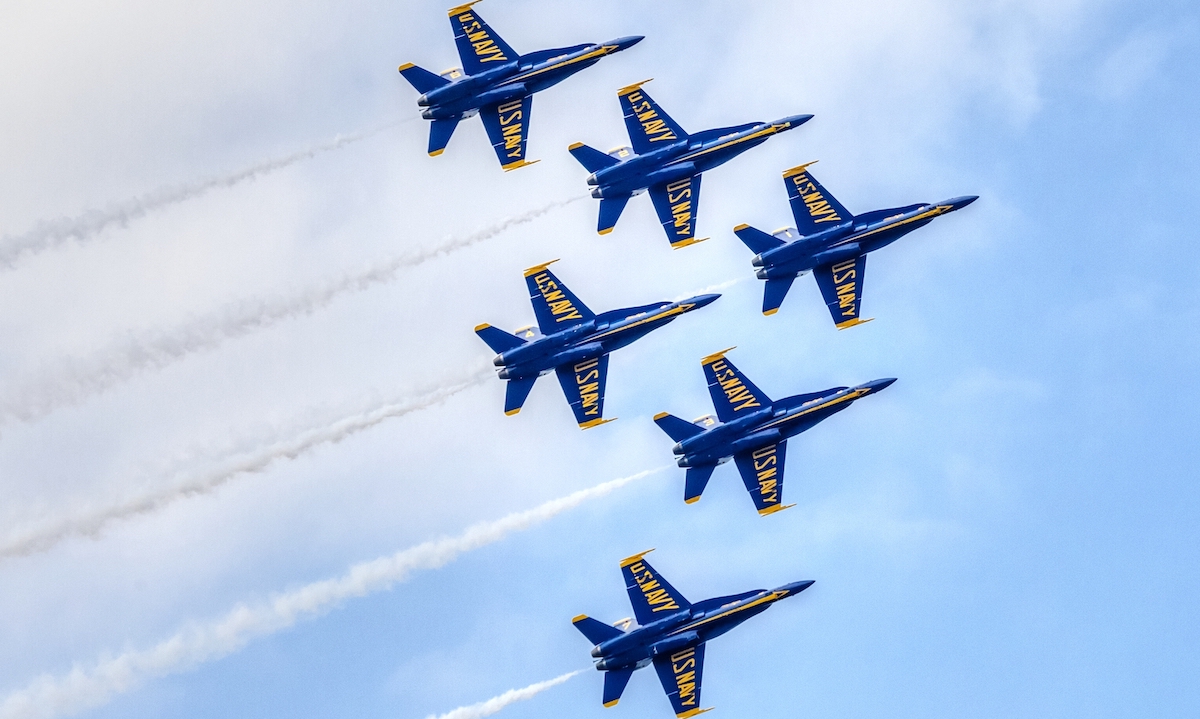 Crowds gather along Grand Traverse Bay to gaze into the sky for the biggest beach bash of the year. A voice shouts, "There they are!" Cameras rise in unison, and the thundering roar of the F-18 Super Hornets announce the bold arrival of the U.S. Navy Blue Angels.
While Blue Angels pilots get most of the public's attention during the Cherry Festival Air Show, there's a behind-the scenes team of dedicated personnel that keep those high-tech aircraft flying high, and Michigan native U.S. Navy Senior Chief Amber Gibson is one of them.
Going Blue
"I enlisted in the Navy right after high school in 2006," says the Muskegon Oakridge graduate in a phone interview from Naval Air Station Pensacola, Florida, home of the Blue Angels Squadron. "I really didn't know what I wanted to do, but I knew I didn't want to waste time and money on college. A recruiter came to our class, and I made up my mind to enlist."
Gibson joined the Blue Angels team in 2019 and underwent a long process to get selected. "I was in Bahrain and saw online that they had openings, so I applied," she recalls.
Applicants go through extensive screening that saw Gibson travel from Bahrain to Pensacola for a week-long interview process. Once selected, she spent about 90 days of training in Pensacola to learn about the jets and all that goes into the making of a Blue Angels air show. These training sessions take place during the Blue Angels non-show months—November to March.
As a logistics specialist, Gibson is responsible for ordering vital supplies and scheduling parts shipments for the gleaming blue and gold F-18 Super Hornets. There's even a saying in the Navy: "Logistics Specialists keep it all running."
This year, the squadron has scheduled 34 shows, including the Thunder Over Michigan show in Ypsilanti on July 16-17. It's a huge matter of pride that the Blue Angels have never canceled an air show due to a maintenance problem.
"I'm really excited to come to Traverse City," says Gibson. "It's very beautiful there. The scenery is gorgeous. My family and friends are coming up for the show. I'm looking forward to cherries and fudge."
It won't be Gibson's first trip to northern Michigan. "I've been to Traverse City before and to Charlevoix," she recalls. "Went to the Weathervane and enjoyed stopping at farm markets and picking up cherries."
During her 16-year naval career, Gibson has been deployed to Japan; San Diego; Naples, Italy; the Great Lakes Training Center in Illinois; and Bahrain. Later this year she'll leave the Blue Angels and be deployed to Rota, Spain.
"I've been very fortunate to travel so much during my naval career," she says. "I'm very grateful to the Navy."
After 16 years, is retirement looming in the near future?
"No, I still love the Navy and expect to go on beyond 20 years," she predicts with a smile in her voice.
The Rest of the Angel Team
The Blue Angels' maintenance and support team is comprised of approximately 100 enlisted sailors and Marines. While the Blue Angels pilots do every air show, alternating crews of about 45 travel to each show site. Each enlisted member covers about one-third of the shows during their three-year tour with the squadron.
In addition to the enlisted personnel, 17 officers serve with the Blue Angels. Each year, the team typically selects three jet pilots, two support officers, and one Marine Corps C-130 pilot to relieve departing members.
The Chief of Naval Air Training selects the Blue Angels Commanding Officer, "The Boss," who must have at least 3,000 tactical jet flight hours and have commanded a tactical jet squadron. Navy Capt. Brian Kesselring, who joined the Blue Angels in 2019, is the current "Boss" and flies the Number 1 jet.
Pilots with an aircraft carrier qualification and a minimum of 1,250 tactical jet hours are eligible for jets Number 2 through 7, and to date there have been 260 Blue Angels demonstration pilots. Officers typically serve two years with the team, then return to their fleets.
Catch the Blue Angels at the National Cherry Festival July 2 and July 3, 2022. The airshow starts at 1pm with the U.S. Navy Blue Angels taking to the sky at approximately 3pm. Get more details at cherryfestival.org.
Angelic History
The history of the Blue Angels dates back to 1946 when Chief of Naval Operations, Admiral Chester Nimitz, had a vision to create a flight exhibition team to raise the public's interest in naval aviation and boost Navy morale.
During the 1940s, the team thrilled audiences with precision combat maneuvers in the F6 Hellcat, the F8 Bearcat, and the F9 Panther. During the '50s, they refined their shows with maneuvers in the F9 Cougar and F-11 Tiger and introduced the first six-plane delta formation, which is still flown to this day. By the end of the '60s, the Blue Angels were flying the F-4 Phantom.
In 1974, they took the throttle of A-4 Skyhawks, a smaller and lighter aircraft with a tighter turning radius, allowing for a more dynamic flight demonstration. In 1986, the squadron unveiled the F/A-18 Hornet, followed by the F/A-18 Super Hornet in 2021 as the Blue Angels celebrated their 75th anniversary.
Angelic Facts
The Blue Angels name was picked by the original team when they were planning a show in New York in 1946 and one of them saw the famous Blue Angel nightclub in a magazine.
An estimated 11 million spectators view the squadron during air shows annually. Additionally, Blue Angels crew members visit some 50,000 people at hospitals and schools during a show season, March through November.
The closest the Blue Angels fly near each other is 18 inches during the Diamond 360 Maneuver.
The highest the Blue Angels soar is about 15,000 feet during the Vertical Roll and the lowest is about 50 feet during a Sneak Pass maneuver.
The fastest speed during an air show is about 700 mph during a Sneak Pass, while the slowest is about 120 mph.
The basic price of a F/A-18 Super Hornet is about $67.4 million. (Additional weapons-related gear varies according to the configuration and the use of the aircraft and can significantly raise the total cost.)
Empty of all ordinance and crew, the Super Hornet weighs about 32,100 pounds, just over 16 tons.
Each Blue Angel aircraft is capable of being returned to combat duty aboard an aircraft carrier within 72 hours.